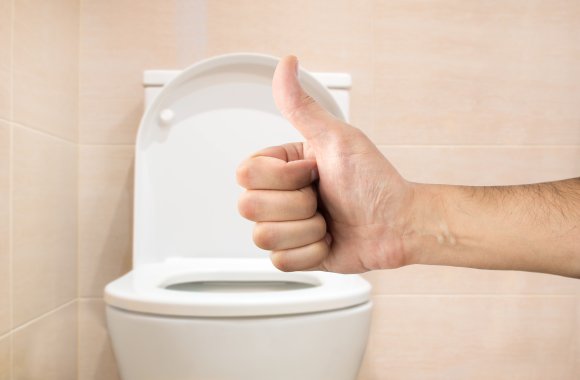 UPDATED
The New Jersey school superintendent who was arrested in late April for lewdness, public urination/defecation, and littering after allegedly defecating near the track of one of his high schools, appeared in court today and requested to see "full surveillance video" of his (mis)deed.
Thomas Tramaglini's lawyer Matt Adams noted he and his client had "only received clips" of the video which allegedly show the Kenilworth Public Schools superintendent excreting during an early morning run at Holmdel High School.
According to Fox News, Adams "requested the full video and a witness' name because he had issues with details related to the video."
Tramaglini and his lawyer obtained narrative and evidence property reports, along with the clips of the surveillance video that led to the 47-year-old's arrest as well as Holmdel police dispatch audio, NJ.com reported.

Police began hunting for the "pooper-intendent" in April after high school staff and coaches reported finding human feces on school property. Surveillance video set up by police eventually led authorities to identify Tramaglini as the alleged "mystery pooper."

Tramaglini is on paid leave from his $147,505 a year job until June 30.

Adams previously told reporters Tramaglini was looking forward to his court appearance to shoot down some "falsehoods that have been portrayed about him in the media." It's unclear if those "falsehoods" were addressed on Tuesday.
The super had requested unpaid leave and was granted it; however, according to New Jersey law it appears that could have been denied as unpaid leave can be enforced "if a person is indicted or faces tenure charges."
Tramaglini was once a part-time lecturer at the Rutgers Graduate School of Education.
UPDATE: The Rutgers Dept. of Public and Media Relations Communications and Marketing contacted The Fix to note that Tramaglini is a former lecturer at the university. He is not currently employed. The article has been amended accordingly.
MORE: 'Mystery pooper' at NJ school ends up being … the superintendent?
MORE: 'Multiculturalism': Students must use the TOILET when doing '#2'
IMAGE: Shutterstock.com
Like The College Fix on Facebook / Follow us on Twitter