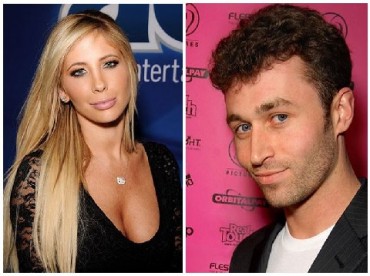 Public records act request reveals cost of public university's 'Porn Panel'
Several branches of the UCLA student government used a portion of their coffers to finance a "Porn Panel" event at UCLA recently, The College Fix has learned.
The March 4 workshop featured popular pornographic performers James Deen and Tasha Reign, with the tagline: "Get an inside look into the adult film industry from the stars themselves."
In documents obtained recently through a California Public Records Act request, The College Fix determined $2,250 in honorariums were shelled out to two panelists.
Deen, currently one of the most popular pornographic performers in the industry, was paid $1,500 for his appearance. Reign, who launched her career as a UCLA undergrad and in 2014 earned a bachelor's degree in gender studies, was paid $750 for her time, records show.
The use of student government money means the honorariums were paid for using a combination of student fees and taxpayer dollars. 
In an emailed statement to The College Fix, Campus Event Commissioner Greg Kalfayan and Student Wellness Commissioner Savannah Baldich stated the event held academic value.
"We had an open conversation on the adult film industry, sex work, intimacy, and safer sex practices, including communication and consent," stated the two, whose respective groups co-hosted the event.
They added the "Porn Panel" offered "a candid opportunity for students to inquire about these taboo topics in a safe space planned and implemented by their student government – both the entertainment office and health office."
"Numerous times during the conversation, panelists spoke on the importance of not viewing adult films as 'education,' because it can perpetuate unhealthy relationship and sexual habits," the two stated. "This event is not only appropriate, it is our right as students and responsibility as elected officials to put on educational and entertaining events that reach students from diverse backgrounds on topics that (in the case of Student Wellness Commission) affect their health."
The two commissioners initially refused to disclose the cost of the event to The College Fix. The amount was only revealed this month through a California Public Records Act request.
Two other members of the panel were Dr. Chauntelle Tibbals, author of "Exposure: A Sociologist Explores Sex, Society, and Adult Entertainment," and Colby Keller, described by organizers as a gay porn performer currently working on his latest project, "#ColbyDoesAmerica."
The event, which was posted on EventBrite, appears to have sold out. The panel was hosted in Moore Hall 100, the largest lecture hall on campus with a capacity of 419, according to the UCLA website.
The event page also mentions the panel was co-sponsored by James Deen. The event page has two links to Deen's adult film website, which features explicit content.
Pardes Seleh, a student at UCLA, told The College Fix that she believes "using college tuition to pay for pornography is both corrupt and irresponsible on the school's part, especially under the false advertisement of 'combating sexual violence.'"
Numeya Rodgers, a senior administrative analyst at UCLA, told The College Fix the "Porn Panel" was entirely student-organized. "In other words, the UCLA administration did not organize or endorse this event," Rodgers stated.
Rodgers added there are "1,100 student organizations on campus that host thousands of events with a wide variety of topics every year."
College Fix reporter Jacob Kohlhepp is a student at UCLA.
Like The College Fix on Facebook / Follow us on Twitter
IMAGES: Main, Wiki Commons; Inside – Facebook screenshot