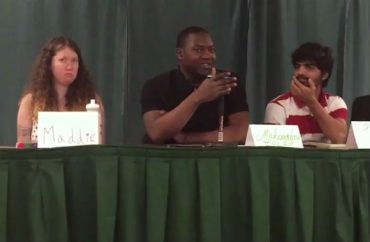 UPDATED
Violates journalism code of ethics on 'minimizing harm'
Portland State University's campus paper The Vanguard accused an editor of threatening a student's life because he tweeted video of the student speaking on an interfaith panel.
Andy Ngo, a College Fix contributor who covers PSU and sometimes breaks news in riot-prone Portland, writes in National Review that he was fired as multimedia editor for his (unofficial) coverage of the April 26 panel, which included Muslim, Hindu, Jewish, Christian and atheist students.
Ngo has covered the persecution of atheists and "apostates" in Muslim countries for The Vanguard, and he's a member of Freethinkers of PSU, which was represented on the panel by student Benjamin Ramey.
After the Muslim student, who organized the panel, took a question about whether the Koran actually permits the killing of non-Muslims, Ngo started recording video. He ended up posting a 40-second clip, and a few hours later, a longer contextual clip with audience response.
The student said that in countries that observe "Koranic law," being a non-believer is a crime, but non-believers are "given the liberty to leave the country … I'm not going to sugarcoat it":
So you can go in a different country, but in a Muslim country, in a country based on the Koranic laws, disbelieving, or being an infidel, is not allowed so you will be given the choice [to leave].
At @Portland_State interfaith panel today, the Muslim student speaker said that apostates will be killed or banished in an Islamic state. pic.twitter.com/YpsVSB1w9P

— Andy C. Ngo (@MrAndyNgo) April 27, 2017
.@Portland_State Here is full clip that I recorded. An audience member asked about Quran 5:51 & "infidels." He summarizes Quran 5:32 just before video starts pic.twitter.com/7FMgsPbFR6

— Andy C. Ngo (@MrAndyNgo) April 27, 2017
Ngo says he shared his first tweet the same night with Editor-in-Chief Colleen Leary and Vanguard reporter Jake Johnson, who was covering the event, and neither "expressed any outrage" about it.
Ngo told The College Fix he was fired April 30, four days after the event. The Vanguard only wrote about the panel discussion May 1, apparently because Breitbart had picked up Ngo's tweets.
It pretty much throws Ngo under the bus:
A video clip featuring only a portion of the organizer's quote that addressed the Quranic law about non-believers or infidels being "given a choice" has been shared on Twitter and Facebook without the preceding and following context. This comment from the organizer, widely shared out of context was met with significant criticism by audience members who accessed it through social media and right-leaning media outlets.
The report said the Muslim student – who despite organizing the event is never named in the story – "had a feeling he may have misspoke" and that he wasn't an expert:
"I thought I would feel proud after putting something like this together," the event organizer said while shaking his head. "Not feel like this."

He expressed concern for his safety and for how the misinterpretation and misrepresentation could affect his family and community.
Ngo told The Fix that Johnson, the reporter, had aggressively confronted him in the office right before he was fired.
Ngo writes in National Review that Leary called him into a meeting April 30 that included Managing Editor Tim Sullivan:
My editor [Leary], whom I deeply respected at the time, called me "predatory" and "reckless," telling me I had put the life and well-being of the Muslim student and his family at risk. She said that my tweets implied the student advocated the killing of atheists. … The editor claimed I had "violated the paper's ethical standards" by not "minimizing harm" toward the speaker.
Leary also allegedly told Ngo he should "step aside" and pointed to his "history" with conservative media, saying it was "toxic" to the paper's reputation.
He pitched his op-ed to the Vanguard before offering it to National Review, but the paper said it would cause the Muslim panelist – who remains unidentified in the Vanguard story – "further distress."
The newspaper's adviser, Reaz Mahmood, was also in the meeting. According to Ngo, he said Ngo should have "taken into account the plight of victimized groups in the 'current political climate.'"
Ngo accuses Vanguard leadership of turning on him only because "conservatives sites picked up" on his tweets, and of violating basic journalism principles:
As far as I'm concerned, the job of any reporter is to report facts, and that's what I was doing when I tweeted about the panel. I find it distressing that I could be fired for continuing to uphold that mission when the facts in question are liable to make people uncomfortable, as facts often are.
Ramey, who represented the atheism view on the panel, quickly backed up Ngo after the event.
@MrAndyNgo @Portland_State As one of the panelists present at this event I would like to say that this speech is not taken out of context.

— Benjamin Ramey (@NikolaosRamey) April 27, 2017
@sahilulu992093 @MrAndyNgo @Portland_State We were all there to demonstrate our own worldview. I think he did just that.

— Benjamin Ramey (@NikolaosRamey) April 28, 2017
Ramey gave The Fix a copy of a letter to the editor he wrote to The Vanguard and the dean of student life. He said neither has responded.
In the letter, Ramey said the Muslim student did not "explicitly" state "the nature of the punishment" for being an infidel in a Koranic-law country, "but as evidenced by the context of the verse in question it was clear that the punishment is death."
Ngo's first tweet was "not a mischaracterization of the conversation nor was it implying that the speaker was personally advocating that anyone be put to death," Ramey wrote:
Immediately the Vanguard haphazardly published content from that six person panel in order to berate by name myself, graduate student Andy Ngo and philosophy professor Dr. Peter Boghossian for daring to even comment on the Muslim student's address. Clearly, it is individuals with a secular worldview that should be most concerned to hear that being an "infidel" in countries under Quranic law is a dangerous offense. …

With ignominy aside, the emotionally charged article, "Interfaith event sparks misunderstanding, goes viral" leaves readers wholly perplexed as to the exact nature of the alleged Twitter misconduct. …

A dramatic public showcase of managerial decisions is no way for the Vanguard to settle internal disputes. It is discouraging to see a student funded publication use their platform inappropriately to publicly slander the name of their now former Multimedia Editor, Andy Ngo, in order to shield themselves from their own apprehension to engage in equitable dialogue about atheism and religion in the modern world.
The Vanguard published an extraordinary editor's note below the story. It explained that it allowed the Muslim event organizer to remain anonymous "in the interest of safety," but failed to note that it fired Ngo for personally tweeting about a public event in which his Freethinkers organization was participating:
The video clip mentioned in this article was originally shared on the personal social media accounts of a former editor and contributor to the Vanguard who is no longer working for the organization. …

It is our assessment that this video clip was published and shared without context in a way that placed a PSU student in significant danger. As members of the PSU community, we are compelled to protect and support this student and urge readers to consider the explanatory nature of these comments and recognize the event's intent to foster inclusion and understanding. …

The Vanguard is committed to minimizing harm and providing context that takes special care not to misrepresent or oversimplify in promoting, previewing or summarizing a story, as per the Society of Professional Journalists Code of Ethics.
It blasted "markedly biased media outlets" for sharing public comments by the Muslim student "without necessary context":
We vehemently reject any association with this type of dangerous misrepresentation.
Ngo is finding support today.
A former Wall Street Journal reporter who has been painted as "Islamophobic" for her criticism of Islam's treatment of women, Asra Nomani, called out the editors for their justification for firing Ngo.
.@MrAndyNgo @PortlandStateUn @psuvanguard .@psuvanguard editors improperly use @spj_tweets Code of Ethics advising journalists to "minimize harm" as a cover for political correctness

— Asra Q. Nomani (@AsraNomani) May 12, 2017
He's also getting support from atheists.
.@psuvanguard fires @MrAndyNgo for posting video of a Muslim student speaking about the treatement of apostates https://t.co/QgztyGaFOR /1

— Muhammad Syed (PBUM) (@MoTheAtheist) May 12, 2017
Collehe campus insanity continues to escalate. It's latest victim is my friend @MrAndyNgo: https://t.co/HLNffSdaJE

— Dave Rubin (@RubinReport) May 12, 2017
The Fix has contacted Vanguard staffers that interacted with Ngo after his tweets, and adviser Mahmood, for their comment.
Read Ngo's article and The Vanguard story.
UPDATE: Ngo gave The Fix a copy of an email from The Vanguard rejecting his proposed op-ed on the situation. Ramey gave The Fix a copy of a letter to the editor he wrote, which has not been published, explaining his perspective on the panel discussion and the paper's reporting of it. Both have been incorporated. A sentence has been revised to clarify that Ngo sent his original tweet to Leary and Johnson the same night he tweeted it.
Like The College Fix on Facebook / Follow us on Twitter
IMAGE: Andy Ngo/Twitter screenshot