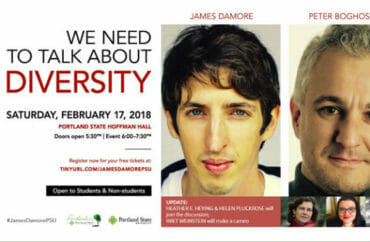 Fired Google engineer talks to 'Conceptual Penis' hoaxer
When universities are afraid of students being exposed to unpopular viewpoints, sometimes they counterprogram an event for the same time.
This is how Brown University responded to a debate on "rape culture": It not only sponsored an "alternative" event that offered students "facts," but set up a room with Play-Doh and coloring books for triggered students.
Portland State University is having the same panicked reaction to a student-organized event set for Saturday with the fired Google engineer James Damore.
Damore's "Google memo" on the fuzzy role of biology in male and female career pursuits was called accurate by a sexual neuroscience Ph.D. but "shoddy" by a physicist because "white men" do most scientific research.
The former Evergreen State College professors Bret Weinstein and Heather Heying, who got a half-million-dollar settlement from the public college for the fallout over the "Day of Absence" controversy, will also be at "We Need to Talk About Diversity" sponsored by Freethinkers of PSU.
Student organizer Andy Ngo, also a College Fix contributor, told The Fix that Weinstein is introducing the speakers. Peter Boghossian, a philosophy professor, will "question the reigning moral orthodoxy" of diversity with Damore, Heying and secular free-speech writer Helen Pluckrose.
Boghossian co-authored an academic hoax paper ("The Conceptual Penis as a Social Construct") that got published in a peer-reviewed journal last year. He also defended a PSU colleague whose pro-colonialism journal article led to an international blacklisting effort.
Tickets are still available at the door as of Tuesday, depending on seating capacity. The event listing explicitly bans "signs or banners" in the venue, but it's a safe bet that leftist activists will try to shut down the event by other means.
MORE: Sexual neuroscience PhD says Damore got it right
Challenging 'misogynistic notions' in science
In response, the taxpayer-funded institution is hosting not one but three events, similarly titled "Let's Talk About Diversity," all of them starting before the Saturday evening Damore event.
The first is Thursday, titled "The True Story of Women in STEM," in which three women challenge "misogynistic notions embedded in the discourse of their fields." The second is Friday, "What Does Diversity Mean at PSU?" It features an "intentionally diverse" group of students and faculty talking about "diversity in academia and the workplace."
The third event is a "block party" that aims to create an exclamation point-filled alternative to the Freethinkers event:
A celebration of the diversity that defines the PSU community! There will be an open mic & lots of free food! Come on by and celebrate with us!
In case you're having trouble reading the logos for the sponsoring organizations, it's largely institutional.
It's organized by Associated Students of PSU, the student government. Other sponsors include the School of Gender, Race and Nations, whose "founding partners" are black studies, indigenous nations studies, Chicano/Latino studies and women, gender, and sexuality studies.
Also: Cultural Resource Centers, Office of Academic Affairs, World Literature & Languages, Disability Resource Center, Women in STEM student group and PSU's chapter of the American Association of University Professors, which has characterized accurate reporting as harassment.
Student organizer Ngo, who has also been published in The New York Times and Wall Street Journal, made himself persona non grata on campus by helping organizing a speech by a gay conservative journalist and accurately quoting a Muslim student's comments on the Koran.
Read the Damore event description and official PSU diversity series.
MORE: The greatest academic hoax in over 20 years gets published
MORE: 'Conceptual Penis' hoaxers say academe blinded by crusades 
IMAGE: Freethinkers of PSU
Like The College Fix on Facebook / Follow us on Twitter