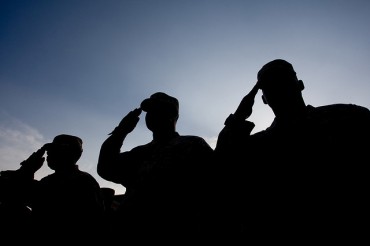 Colorado University at Boulder is no stranger to military protests. Anti-war demonstrations spawned on campus in the 60s and 70s, and even occurred as recently as last year, when President Obama visited.
Underscoring that, tensions between student hawks and doves mounted this year at the highly politicized campus, a frequent pit stop for Obama during the election season, and also home to highly active students for both the Republican and Democrat parties.
At the height of the election season, the Boulder campus and other Colorado universities made headlines when their Republican students documented Democrat peers breaking polling site laws, and then helped file official complaints with state election officials over the infractions.
But with the election over and the Christmas season upon them, CU Boulder's campus Republicans recently decided to let there be peace on Earth, and let it begin with them.
To that end, they spearheaded an effort to send Christmas cards to the troops, and reached out to the entire campus community to pitch in. To their pleasant surprise, students who identified as left-leaning or Democrat joined the cause.
Sophomore Cat Layton, 19, who describes herself as left-leaning, said she supports the troops and was happy to take part. Layton said she has several friends in the military, and writes the cards as a way to personally thank the troops for their service.
She added the cards are an important gesture to the troops, even if one is against the wars.
"Regardless of where you stand, the troops are putting their lives on the line," she said. "We need to do whatever we can to let them know that we are still thankful."
Junior Amanda Otero, 20, of Puerto Rico, is neither Republican nor Democrat, but sent a card to troops nonetheless to thank them for their courage, she said.
"I would never have the guts to serve my country," she said. "To me, serving the country is a brave thing to do. Thank you."
Mitch Whitus, president of the CU College Republicans, said it was the first time the group took on such a bipartisan, holiday project, and he is pleased with the results.
"It's important to do it," said Whitus, 20. "The holidays are important because we have so much to be thankful for."
The group purchased the cards, and in the end roughly 30 were sent through the Red Cross to troops serving overseas.
The effort helped promote bipartisanship on campus during the Christmas season, because regardless of political affiliation, the cards brought people together, he said. Many students wanted to do this, Whitus added.
Still, it wasn't all kumbaya on campus. A liberal creative arts journal group that shares an office with the campus Republicans declined to participate.
Nevertheless, troops will still receive some grateful words of thanks from CU Boulder students this year, Whitus said.
"It's important to support the troops, who are out there fighting for our freedoms," he said.
Fix contributor Aslinn Scott is a student at University of Colorado at Boulder.
IMAGE: National Guard