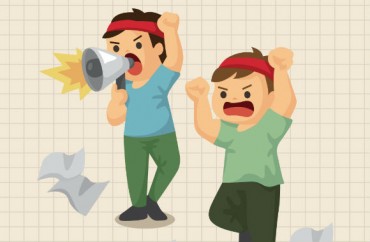 'Yesterday wasn't a Senate hearing. It was a public execution'
The chaos in the upper echelons of the University of Missouri System has trickled down to the student government at its Columbia campus in the wake of racial protests last fall.
Last week's four-hour senate meeting amounted to little more than the "public execution" of President-elect Haden Gomez—who beat sexual-misconduct allegations last fall—and Vice President-elect Chris Hanner, according to a student government official who resigned in protest.
Days later Alex Higginbotham was accused by another student of racism in his resignation announcement because he trivialized "the harsh realities of Jim Crow-era lynching."
The upheaval at Mizzou is taking a toll on applications for next year's incoming class: According to ABC 17 News, they are down 5 percent across the board and a stunning 19 percent for black "first-time" students.
Unreported sexual-harassment allegation
In the face of evidence that their campaign activity last fall violated election rules, Gomez and Hanner resigned at the same Jan. 27 meeting in which they were to be sworn in.
But the violation—an intentional mass-texting scheme through the Pocket Points application—was quickly overshadowed by complaints about Gomez's character in the public-comment period, according to The Maneater.
"When we walked into that chamber there were two things and two things only that we should have been talking about: that was Pocket Points and text messages," Higginbotham told The College Fix in an interview Monday.
"Those two things made up almost none of the conversation," Higginbotham continued. "The entire conversation was about character. The entire conversation was about tearing two people apart." He resigned as chairman of the Campus & Community Relations Committee in protest.
Former vice presidential candidate Heather Parrie stood before the room to accuse Gomez of making "a sexual advance toward her" at a social event, saying she didn't report it because "she didn't have faith in the Title IX system," The Maneater reported.
RELATED: Student candidate cleared of sexual misconduct is shamed into taking down his post about it
Gomez wrote a Facebook post shortly before launching his campaign that described the "incredibly depressing" process of being investigated for "kissing and/or attempting to kiss" another person. He apparently suggested that accused students be given access to the same counseling resources as accusers, but removed his post following outrage.
The public comment period of the meeting also had strong representation from Concerned Student 1950, the black-led group that set up a tent city on the eve of the resignations of senior university leaders.
Its members accused Gomez and Hanner of "buying the election" but also Gomez specifically of having an "apparent lack of concern for students with marginal identities," in the words of The Maneater.
The Legion of Black Collegians released a statement that night calling for Gomez and Hanner to be "barred" from taking office.
A word from The Legion with regards to the Gomez/Hanner campaign, #itstopsNOW pic.twitter.com/bobfTbsQ53

— LBC (@MizzouLBC) January 27, 2016
'Legitimate concerns and dissent are met with dismissal and condescension'
"Yesterday wasn't a Senate hearing. It was a public execution," Higginbotham wrote in a Facebook post announcing his resignation Jan. 28. "Yesterday wasn't a discussion of the issues, it was a quest to destroy the wellbeing [sic] and lives of two human beings."
He decried "cruelty and bullying" by the student government leadership regardless of whether Gomez should have been removed. Higginbotham incorporated parts of his post into a longer Maneater letter published Wednesday.
Senate Speaker Kevin Carr responded to the sentiment voiced by Higginbotham.
"It had gotten to the point where this organization … had deteriorated to a point that I couldn't be a part of it anymore," Higginbotham told The Fix. "Legitimate concerns and dissent are met with dismissal and condescension."
Higginbotham said he repeatedly asked that the new evidence of infractions be referred to the judicial senate but that his concerns were dismissed, leading to personal beefs with Gomez dominating the meeting.
RELATED: First Amendment doesn't let you say 'hateful things,' Mizzou's new vice chancellor says
Parrie's sexual-advance accusation "was irrelevant to the conversation at hand," Higginbotham told The Fix. "And it was definitely used as a means of an emotional ploy to characterize Haden."
Heather Parrie claims @hadengomez asked her "So when are we going to fuck?" in the past @MSAmizzou senate hearing #Mizzou

— Danny Konstantinovic (@Dannykons) January 28, 2016
Gomez's opponents "weren't there for a resignation or his removal; they were there to destroy him," Higginbotham said.
'Public execution' line is offensive to 'students of color'
Higginbotham's strong language was condemned by student activist Hannah Feagan in another Maneater letter published Wednesday.
Referring to Higginbotham's "public execution" line, Feagan wrote: "Not only is this term incredibly, overtly offensive to students of color whose family ancestries are bloodied with the harsh realities of Jim Crow-era lynching, but it offers zero accountability for those who do not simply hold positions of power — but were proven to have cheated their way into those positions."
Feagan said the character issue that dominated the meeting "wasn't entirely pertinent," but those concerns "were brought up to exemplify an utter lack of moral fiber from the individuals who lied to secure the two highest positions in undergraduate student government."
RELATED: Former Mizzou educator arrested for dragging hijab-less teenage girl by the hair
The student government will hold a new election in the upcoming months.
The Jan. 27 meeting ended with the reinstatement of Payton Head as interim president, whom Hanner had named his vice president just after Hanner was briefly sworn in as president. Head's recounting of an alleged racial slur directed at him helped launch the racial protests at Mizzou.
No one wants these jobs
The high attrition rate of student government leaders—president, vice president and half the committee chairs are interim—mirrors that of the university system.
In addition to those who succeeded System President Tim Wolfe and Mizzou Chancellor R. Bowen Loftin—whose resignations were prompted by Concerned Student 1950's activism—interim deans are leading the business, medicine, education and "human environmental sciences" colleges.
Three of nine positions on the Board of Curators are currently unoccupied, with curators Yvonne Sparks and David Steward resigning last month. Sparks was appointed in November and was awaiting confirmation by the Missouri Senate.
RELATED: 'Mizzou students are crybabies' bathroom graffiti denounced as 'hate speech'
"These are very successful people with lives outside their service on the board" and "current demands" are challenging, Chief Communications Officer John Fougere explained to ABC 17 News.
Higginbotham told The Fix he made his concerns public to inspire a culture change within student government.
"I didn't just resign just because of Wednesday night," he said. "I've watched [the student government] get to the point that it is at and I wanted people to know that."
Like The College Fix on Facebook / Follow us on Twitter
IMAGES: notkoo/Shutterstock, Mark Schierbecker