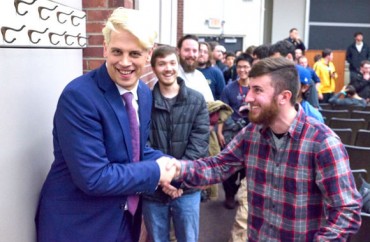 Don't attack your own right to expression 'at an historic moment for our nation'
Anti-feminist provocateur Milo Yiannopoulos is having a pretty good couple weeks.
Not only did the University of Washington refuse to cancel his campus speech after someone got shot outside, but unlike its sister campus in Davis, the University of California-Berkeley is refusing to cancel his speech next week, and the University of New Mexico just waived a "speech tax" on his upcoming appearance following a legal threat.
The Daily Californian reports that several faculty tried to convince Chancellor Nicholas Dirks to keep out Yiannopoulos:
"Yiannopoulos' deplorable views pass from protected free speech to incitement, harassment and defamation once they publicly target individuals in his audience or on campus, creating conditions for concrete harm and actually harming students through defamatory and harassing actions," the faculty letter said. "Such actions are protected neither by free speech nor by academic freedom."
Dirks had none of it, releasing a letter Thursday that made clear he couldn't stand Yiannopoulos but the school wasn't going to start imposing viewpoint tests on students' events:
Mr. Yiannopoulos is not the first of his ilk to speak at Berkeley and he will not be the last. In our view, Mr. Yiannopoulos is a troll and provocateur who uses odious behavior in part to "entertain," but also to deflect any serious engagement with ideas.
MORE: University of Washington prez defends Milo's right to speak
He told students that might be triggered by Milo to reconsider whether they want to go even to protest, and dropped some legal knowledge on them:
[The Berkeley College Republicans] is the host of this event, and therefore it is only they who have the authority to disinvite Mr. Yiannopoulos. Consistent with the dictates of the First Amendment as uniformly and decisively interpreted by the courts, the University cannot censor or prohibit events, or charge differential fees. Some have asked us whether attacks on individuals are also protected. In fact, critical statements and even the demeaning ridicule of individuals are largely protected by the Constitution; in this case, Yiannopoulos's past words and deeds do not justify prior restraint on his freedom of expression or the cancellation of the event.
He reminded students that they will want their free speech protected under President Trump:
Moreover, we are defending the right to free expression at an historic moment for our nation, when this right is once again of paramount importance. In this context, we cannot afford to undermine those rights, and feel a need to make a spirited defense of the principle of tolerance, even when it means we tolerate that which may appear to us as intolerant.
Dirks hinted that students who do not protest Yiannopoulos "in a lawful manner" would be met with action from the UC Police Department:
UCPD has been directed to maintain public safety and to do what it can to prevent disruptions and preserve order. It should be noted that the anticipated cost of those additional preparations and measures will be borne entirely by the campus, and will far exceed the basic security costs that are the responsibility of the hosting organization. We will not stand idly by while laws or University policies are violated, no matter who the perpetrators are.
He compared Yiannopoulos's words to "mold" that can only be killed if exposed to "bright light and fresh air."
MORE: U. of Alabama cancels $7,000 Milo speech tax
Just a day after the Foundation for Individual Rights in Education warned UNM that its $3,400 security bill to Yiannopoulos's hosts was unconstitutional, the school backtracked, FIRE said Thursday.
Yiannopoulos is scheduled to speak at UNM tonight, and now the campus chapters of College Republicans and Young Americans for Liberty won't be punished under a campus policy that would require them to pay extra fees for any event of a "controversial nature," apparently as judged by the campus police chief.
The school has agreed to not enforce the policy for all student events going forward, and the original cost estimate of $400 has been reinstated on the hosts. Acting President Chaouki Abdallah released a statement, reprinted by KRQE:
The University of New Mexico is committed to the principles of free speech, and values our role as a marketplace of ideas in the community. Within this context, I have carefully considered the concerns expressed by the Regents in last Friday's meeting regarding the police and security services policy and how its application may impact free speech on campus. As a result, I am directing the immediate suspension and application of that portion of the policy that results in fees for security and police protection, pending a thorough policy review.
Though Abdallah portrays the change as a response to last week's regents meeting, as the Daily Lobo reports, UNMPD Lt. Tim Stump contradicted the hosts' claim that the $3,400 fee was sprung on them just two weeks ago:
"Security has to be approved for an event before it can be made official," he said. "The student organization was made aware of the cost months ago."

Stump went on to say that a smaller security detail was decided for the event, but given the climate at other universities that hosted Yiannopoulos, they made the decision to have more security, resulting in the aforementioned $3,400 charge.
Read the Daily Cal, KQRE and Lobo stories, and FIRE's post.
MORE: Berserk UC-Davis students force cancellation of Milo event
Like The College Fix on Facebook / Follow us on Twitter
Like The College Fix on Facebook / Follow us on Twitter