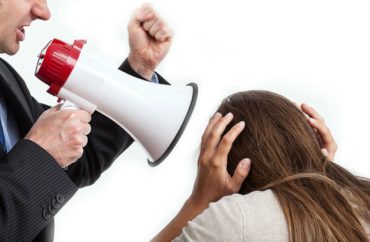 UPDATED
The assistant principal who was caught on video berating a pair of anti-abortion teenagers outside of a Pennsylvania high school has received the support of thousands from across the country.
Among other bits of nastiness, Downingtown STEM Academy's Zach Ruff had told a protesting brother and sister "You can go to hell," "[…] go get a freakin' life," and yelled "GO HOME!" He has been suspended without pay since last Friday, and the district is in the process of deciding his fate.
But Philly.com reports he received a boost Wednesday evening when "more than two dozen students sporting blue 'I Support Dr. Ruff' T-shirts" showed up at the school board meeting and presented a pro-Ruff petition containing 50,000 signatures.
"We need him back," student Zach Ng said.
"We didn't think we'd get this far," Ng said of the online CARE2 petition, which has received signatures from across the country. …

The 13-year veteran teacher was presented with charges at a school district hearing earlier, [lawyer Michael Levin] said.

"My opinion is, First Amendment rights were violated," Levin said, referring to Ruff's obscenity-based tirade against two teen protesters who showed up with signs outside the school as students were driving home for the day. …

In the roughly 10-minute video, Ruff clashed with the protesters — who do not go to Downingtown schools and held aloft pictures of aborted fetuses — over whether they had a right to protest on school property during the afternoon dismissal.

Ruff, who received a doctorate in educational leadership from Drexel University this year, told them that aborted fetuses were "cells,"and that he was gay and didn't "give a … about Jesus."

"You and Trump can go to hell," he said, and then loudly sang "I Love a Parade," apparently to drown out the pair.
Levin added "there other issues that did not appear on the video" but did not specify.
Demonstrating the necessity for more First Amendment education, pro-Ruff students' comments ranged from they didn't think Ruff "broke any laws or violated the school's code of ethics," to "he was in the right for wanting to protect students," and that he merely wanted to protect students "from a traumatizing and potentially dangerous situation."
UPDATE: Philly.com reports that Ruff has resigned from his position.
The district said Ruff indicated at [a May 5]  hearing that he might resign but requested more time to review the charges, which included violating the protesters' First Amendment rights, said Michael Levin, the attorney representing the district.

"Dr. Ruff has acknowledged that the demonstrators had a right to be on a public sidewalk," the news release said.

"He acknowledged that his conduct cannot be defended or condoned, and he deeply regretted his actions as displayed on the video. This school district will not interfere with the rights of anyone to express themselves."
MORE: Assistant principal caught on video screaming at teen pro-life activists
MORE: Don't forget about the persecution of campus pro-lifers
Like The College Fix on Facebook / Follow us on Twitter
IMAGE: Shutterstock