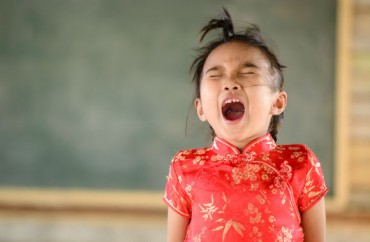 Just sour grapes from 'middle- and upper-middle-class Chinese Americans'?
The Common Application, a nonprofit that offers a college application accepted by more than 700 member colleges, has 10 different categories for Asian-American applicants.
It has three for whites and four for blacks.
That's a violation of the 14th Amendment and it's facilitating illegal discrimination against Asian Americans in college admissions, particularly in the Ivy League and other selective schools, an advocacy group told the nonprofit in a legal threat letter earlier this month.
The Asian American Coalition for Education, which is currently suing Harvard for discrimination against Asian-American applicants, said it has "good reason to believe that the ultimate use of this data [submitted by Asian-American students] will not be benign – that it will be illegally used to further impair Asian American rights and limit opportunities based on race, national or ancestral origin."
The data are not required by any law or court ruling, and it's "the very definition of racism" for colleges to "consider factors beyond applicants' abilities and efforts in a determinant way," the letter said.
MORE: Asian-American groups blast Dems for 'bigoted intervention' in Harvard inquiry
Furthermore, Asian Americans are "one of the smallest racial groups" in America compared to whites, who could easily merit 50 subdivisions based on their presence across "Europe and other continents":
There is no more difference between two people originally from Thailand and China, respectively, than two people originally from Ireland and Slovakia.
Even though checking one of the subdivision boxes is voluntary, most students fill them out for fear that "it may be a strike against me" in the admissions process, lawyer and coalition board member Raymond Wong told The Daily Pennsylvanian:
Wong added that members of his family had personally been impeded by the admissions policies of elite schools like Penn.

"My daughter, who did very well in school — much better than a Caucasian — did not get admitted to UPenn," Wong said. "But there was another girl who got admitted — a Caucasian — and her grades were far less, and you wonder why."

"You have all these legacy [applicants], all these sportsmen, you have first [generation] to go to college," Wong said. "The numbers and the policies of admissions are really stacked against Asians and it's really unfair."
MORE: Trump admin reviews Harvard's alleged anti-Asian practices
According to Inside Higher Ed, the real fear is that the Common App is helping marginalize students with "family roots in China or Japan," who are assumed to have grown up in the United States "with families of means and access to good schools."
The Common Application nonprofit said that "experts on Asian students" told it to include the voluminous subdivisions for Asian Americans.
Without more "disaggregated" data, researchers can't pinpoint differences in "degree attainment" between different Asian groups in the U.S., such as "Chinese vs. Cambodian," UCLA Prof. Mitchell Chang told Inside Higher Ed.
Colorado State University's OiYan Poon said the controversy is being driven by "mostly middle- and upper-middle-class Chinese Americans," who have a "poor understanding" of the holistic review of college applicants.
"Holistic review" is a frequent euphemism among college administrators. They use it to justify accepting students of one race with lower scores while turning away students of another race with higher scores.
The practice is facing its greatest threat yet in the ongoing lawsuit against Harvard.
The elite university was forced by a federal judge to turn over several years of secret admissions data to the plaintiffs a year ago. This summer, the Trump administration opened its own review of Harvard's admissions practices.
Read the coalition letter and Daily Pennsylvanian and Inside Higher Ed reports.
MORE: Harvard forced to turn over application data in Asian-discrimination lawsuit
IMAGE: Shutterstock
Like The College Fix on Facebook / Follow us on Twitter