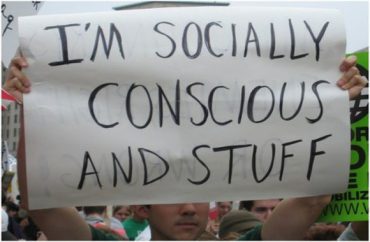 The University of Wisconsin-Madison group Student Coalition for Progress was miffed — MIFFED, I tell you — that the school's football team was staying at a Trump hotel during its Orange Bowl appearance on December 30.
The SCP, vaguely described as "a group of concerned students" which is "not afraid to protest" nor "afraid to make [its] voices heard" by its Facebook page, issued a press release demanding school officials explain themselves regarding the choice of lodging.
According to The Badger Herald, the SCP said it was "'disappointed' the team, band and alumni are staying in a hotel with the same name as the current president, who 'oppresses those of color.'"
"[G]iven the obvious issues with working conditions, racism and human rights violations by the President," the press release says, the SCP "calls on the Orange Bowl and Wisconsin Alumni Association to give a detailed explanation" as to why Trump's hotel was chosen.
Orange Bowl Vice President of Communications Larry Wahl pointed out the housing choice was decided upon four years ago:
"[The Orange Bowl] is in a multi-year contract with Trump Doral and Wisconsin is the fourth team to have stayed there," he said.
The SCP's Ekenedilichukwu Ikegwuani said the group wasn't aware of this fact before its press release went out, but noted the university still should have found another place to stay in the Miami area.
"The Badger athletics isn't hurting for money," Ikegwuani said. "I felt like they had enough so that if they wanted to go somewhere else they could've."
SCP member Beth Alleman added "it was ironic for black college football players to stay in a hotel owned by a president who has criticized black NFL players who kneel during the national anthem to protest the mistreatment of minorities.
"Wisconsin Alumni Association Director of Media and Public Relations Tod Pritchard said "the vast majority of interested travelers voiced no concerns about the hotel selection," and UW Athletics spokesman Brian Mason added he didn't notice any indication that players had an issue with where they stayed for the big game. (UW defeated Miami 34-24 in the Orange Bowl, by the way.)
A glimpse of the SCP's Facebook page "event" section from last year includes "STOP John Taylor: Koch Bros Stooge, Job Killer, Fed Nominee," "Noise Demo to Resist Charles Murray," and "Capitalism is Violent: Resist Steve Forbes!" in which the student organization Young Americans for Freedom is referred to as a "protofascist group."
MORE: UCLA study 'proves' Trump is a bigot
MORE: UW-Madison students target Abe Lincoln for his 'oppression'
IMAGE: Sam Felder/Flickr
Like The College Fix on Facebook / Follow us on Twitter