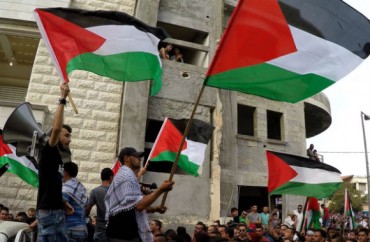 Office of Public Safety denies it investigated Facebook post
Hundreds of Columbia University students, faculty and alumni signed a petition condemning an anti-Israel campus group for its "dismissal of terrorism as 'civil disobedience'" on Facebook.
They were joined by a Jewish member of Congress whose district includes Columbia, who took a broader swipe at the boycott, divestment and sanctions (BDS) movement against Israel on Medium.
The dispute, which occurred during Israeli Apartheid Week at Columbia and its affiliated Barnard College, has to do with the word "intifada."
Though the Barnard-Columbia Socialists group claimed its members were under school investigation for using the phrase "Long live the Intifada!" in a Facebook post, a Columbia Public Safety spokesperson told The College Fix that the group's members "are not now, and have not been, under investigation."
Intifada is just what Bernie promotes
Defined by Merriam-Webster as "an armed uprising of Palestinians against Israeli occupation of the West Bank and Gaza Strip," the word translated from Arabic means "the act of shaking off."  
The campus socialists' post in early February praising intifada, in the context of a new BDS campaign on campus, immediately ignited controversy.
An Israeli student at Columbia wrote in the Columbia Daily Spectator that it brought back "memories of bombings from my childhood during the Second Intifada and of shootings and stabbings from two months ago when I last visited home," and made her feel "exposed and unprotected" on campus.
Amalia Reich wrote: "Intifada represents war, hate, violence, civilian attacks, and fear."
The socialist group took down the post, but one of its former members wrote a defense of it for SocialistWorker.org.
The word only refers to "the popular struggle of hundreds of thousands of Palestinian people acting in civil disobedience against occupation and apartheid" through acts such as "mass marches, strikes by workers, [and] the withholding of taxes from the occupiers," Dorian Bon wrote.
Congressman: BDS wants to conceal 'its anti-progressive nature'
When Columbia University Apartheid Divest (CUAD), which is leading the new BDS campaign, shared the SocialistWorker.org article on Facebook and said the two intifadas were only "mass rebellions against terrorism," it became a target of pro-Israel members of the community, who distributed a petition against CUAD.
"The first and second intifadas mark tragic low points in the Israeli-Palestinian conflict," reads the March 2 petition, which had more than 600 signatures upon posting. "Thousands of innocent civilians on both sides were murdered during these violent periods. The mischaracterization of suicide bombings, stabbings, and shootings as 'civil disobedience' is an egregious ethical breach."
The petition form is still live but it won't accept signatories unless they use Columbia or Barnard email addresses. No group has publicly taken credit for collecting signatures or distributing the petition, which was first posted on the Columbia student-run news site Bwog.
Democratic Rep. Jerrold Nadler of New York, who is Jewish and graduated from Columbia, wrote on Medium March 3 that the "global BDS movement" wants to "eliminate Israel entirely and to deprive the Jewish people — and only the Jewish people — of the right of self-determination."
The socialist group "embraced the violence of suicide bombings and other forms of terrorist violence" when it praised intifada, Nadler wrote, adding that the BDS movement "has been quite skilled at using rhetorical sleights-of-hand to conceal its anti-progressive nature." Nadler's son is a recent Columbia graduate as well.
Read my statement on the Boycott, Divestment & Sanctions (BDS) campaign taking place at Columbia University https://t.co/Yi3zTunqgQ

— Congressman Nadler (@RepJerryNadler) March 3, 2016
Nothing more than 'Zionist racism' trying to silence critics
Columbia-Barnard Socialists lashed out against the petition and negative attention in a March 3 op-ed in the Daily Spectator, accusing Jewish groups on campus of trying to stifle their speech.
Student Reich and others are guilty of "Zionist racism" when they say intifada refers to "a call to violence" rather than "shuddering" or "shake off," the group wrote. "Our statement [on Facebook] was neither a call for, nor an endorsement of violence."
The socialists claimed they were informed "that more than 60 students have coordinated the submission of complaints to the administration claiming that the post constituted a threat of violence to pro-Israel students on campus."
That resulted in an investigation by Columbia's Office of Public Safety, the group claimed. "We have been told that Public Safety could turn over any materials found in its investigation—again, the scope of which and our rights within which we still do not know—to the New York Police Department."
The socialists said the alleged complaints were filed "to marginalize and intimidate anyone standing in solidarity with the Palestinian struggle." The op-ed discusses a professor, activists and other groups who they say were silenced by Columbia.
This year's Israeli Apartheid Week, an annual collection of lectures and rallies protesting Israel's "occupation" of land claimed by Palestinians, is the first at Columbia since the launch of CUAD, according to the Daily Spectator.
That group's website says it has called on Columbia to divest from eight companies that "profit from the State of Israel's ongoing system of settler colonialism, military occupation, and apartheid law."
Like The College Fix on Facebook / Follow us on Twitter
IMAGE: wideweb/Shutterstock