An incoming gift to Education nominee Betsy DeVos
In his inaugural address today, President Donald Trump said the educational system was "flush with cash" and yet "leaves our young and beautiful students deprived of all knowledge."
It wasn't much of an overstatement.
As one of its last acts before the peaceful transfer of power, the Department of Education published its findings on the impact of "one of the Obama administration's signature efforts in education," The Washington Post reports:
The School Improvement Grants program has been around since the administration of President George W. Bush, but it received an enormous boost under Obama. The administration funneled $7 billion into the program between 2010 and 2015 — far exceeding the $4 billion it spent on Race to the Top grants.

The money went to states to distribute to their poorest-performing schools — those with exceedingly low graduation rates, or poor math and reading test scores, or both.
Schools had to adopt one of four measures to get up to $2 million a year for three years:
replacing the principal and at least half the teachers, converting into a charter school, closing altogether, or undergoing a "transformation," including hiring a new principal and adopting new instructional strategies, new teacher evaluations and a longer school day.
It completely bombed, possibly because half the schools chose "the least intrusive option" of "transformation."
MORE: Ed secretary's kids get to attend prestigious private school
The administration refused to change course even as interim evaluations showed it wasn't working: The most recent in 2015 found a third of targeted schools "showing no improvement or even sliding backward."
The final results:
Test scores, graduation rates and college enrollment were no different in schools that received money through the School Improvement Grants program — the largest federal investment ever targeted to failing schools — than in schools that did not.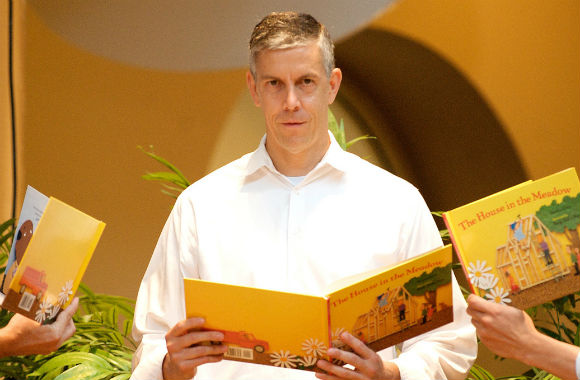 American Enterprise Institute resident fellow Andy Smarick is gobsmacked by the billions the feds spent – most of it from the American Recovery and Reinvestment Act, which former Education Secretary Arne Duncan promised to monitor like a hawk – giving empty promises to kids in failing schools "things were going to get better":
Smarick said he had never seen such a huge investment produce zero results.

That could end up being a gift, he said, from Duncan to Betsy DeVos, President-elect Donald Trump's nominee for education secretary and is a prominent proponent of taxpayer-supported vouchers for private and religious schools.

Results from the School Improvement Grants have shored up previous research showing that pouring money into dysfunctional schools and systems does not work, Smarick said: "I can imagine Betsy DeVos and Donald Trump saying this is exactly why kids need school choice."
MORE: Duncan says Chicago youth 'marginalized' without top-down ed strategy
Like The College Fix on Facebook / Follow us on Twitter
IMAGE: Thiti Sukapan/Shutterstock, US Department of Education/Flickr