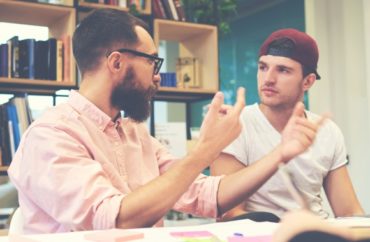 Educational nonprofit Braver Angels cultivates political conversations with today's students
A non-profit group is working to promote civil political discourse among college students in this time of ever-increasing discord on America's college campuses.
Braver Angels has partnered with the American Council of Trustees and Alumni and the student organization BridgeUSA to host a college debate program since 2018.
The organization has sponsored debates on subjects such as the southern border wall at Arizona State University, reforming Greek life at North Carolina State University, and Supreme Court term limits at George Washington University.
COVID has made that job more difficult, but that hasn't held Better Angels back. This year, the nonprofit hosted debates with college students participating in The Fund for American Studies' Washington, D.C.-based Capital Semester and Summer Programs.
Topics students debated included controversial questions such as "Should the U.S. adopt an open border policy?", "Should vaccine passports be required for U.S. citizens?", and "Should journalists value objectivity over advocacy?"
Braver Angels aims to "depolarize American politics" by challenging existing partisan attitudes and centering "patriotic-empathy," or what the organization describes as "the idea that our love for our country is shown by our concern for our fellow citizens," according to its website.
What Braver Angels has added
"Civil debate has always been a part of the TFAS learning model, but the addition of Braver Angels debate model provides even more room for a positive, open environment for individuals to speak their mind on a thoroughly researched topic," said Kristin Underwood, Director of Marketing and Communications at The Fund for American Studies, in a statement to The College Fix. "TFAS prides itself on creating an environment for open dialogue in the classroom. When students are challenged to question and embrace new ideas, they uncover truth."
"TFAS has provided an ideal partnership opportunity for our College Debates and Discourse Initiative with Braver Angels. In each of the seven debates, we were inspired by the way TFAS students and leaders modeled respectful civil dialogue and free expression of diverse viewpoints," Doug Sprei, ACTA's director of campus partnerships, said in July in a news release.
Braver Angels debates use trained moderators and follow a structured format, in part to reduce tensions. Students are directed to address their remarks to the moderator, addressed as "Mr. Chair" or "Madam Chair," and to only refer to fellow students in the third person as "the speaker" to avoid speaking directly to one another.
Noting the "clear success" of TFAS's Braver Angels debates this summer, Underwood promised that the partnership would continue. "TFAS, ACTA and Braver Angels will continue to create Braver Angels debates for future semester and summer TFAS students," according to Underwood, because the Braver Angels debates help students "engage with new ideas while they challenge perspectives."
A real space to test ideas
In a podcast episode posted earlier this year, David Dagan, a lecturer at George Washington University who helped facilitate Braver Angels debates at the school, called the collegiate debate series a "great community building exercise" that "really help[ed]" students become "engaged citizens."
April Lawson, the Director of Debates and Public Discourse at Braver Angels, called the college debate partnership with ACTA "incredibly fruitful" and said that the relationship has "enabled [Braver Angels] to take one of our most promising programs, and really make it flourish."
Lawson, whose responsibilities include overseeing the College Debate Program, said that student participants often tell her that they value Braver Angels debates as a forum where they can freely speak their mind rather than being "jumped on" or "canceled" for sharing their political views.
"Braver Angels debates are a real antidote to…the way in which universities are failing students right now," Lawson said. "Students need a place to learn, to think, and to test out ideas, and to say things that they later are like, 'Well, that was dumb!', and to try things that are daring, and to really, sort of, become themselves, and universities―at least according to students―their seminars are not that place anymore. Their papers are not that place, the late night conversations are not that place, and, so, they need that."
MORE: Why won't Ibram X. Kendi debate John McWhorter?
IMAGE: Gaudi Lab/Shutterstock
Like The College Fix on Facebook / Follow us on Twitter