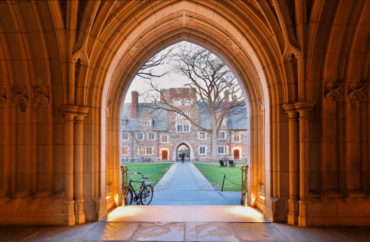 One student said the university should not help pay for abortions
Students at Princeton University could be subsidizing their peers' abortions through the health insurance plan.
The 2021-22 Student Health Plan covers abortions and also the cost for "Transgender Related Expense(s)" according to the insurance documents. This includes "transgender surgery."
The cost for an "elective abortion" is covered 70 to 90 percent by the health plan administered by the Ivy League university and Aetna Student Health.
One student, who wished to remain anonymous for personal reasons, said he found the abortion coverage problematic.
"It's concerning that abortion — a practice found by many Princeton students and faculty to be morally reprehensible — is readily supported by the University," the student told The College Fix via Instagram messaging.
"I would hope that other options, like support for taking care of a child while being a student, would also be heartily supported by the University," he said.
New Jersey Right to Life said Princeton should help women keep their babies and stay in school, not subsidize their abortions.
"It's so hypocritical to see academic institutions that champion equality for all promote and fund abortion," Marie Tasy, executive director with NJRTL told The Fix via email. Yet, Tasy said, Princeton "den[ies] support for those women who choose to parent and keep their babies while continuing their education."
The "transgender related expense" category is also expansive. The plan pays for between 70 to 90 percent of the costs.
"Covered Medical Expenses include charges incurred by an enrollee for medically necessary surgery, mental health, prescription drugs and other related services," according to the statement of benefits.
The Fix emailed the media team on February 24 and 25 and asked for comment but did not receive a response.
The Fix asked how many abortion were paid for by the plan, as well as the amount of "transgender related" care, such as surgeries, paid for by the plan. The Fix asked if there is a way for students to opt out of paying for those procedures if they have moral objections to them.
Princeton is not alone in its coverage of abortion and "transgender surgery."
For example, University of San Diego, a Catholic university, pays for "abortion, sex-change surgeries, voluntary sterilization and abortifacient birth control," as previously reported by The College Fix.
A university spokesperson told The Fix in in August 2021 that federal and state law requires it, though she refused to provide any specific examples.
Catholic University of America, which is covered by the same federal laws as USD, dropped its abortion coverage after The Fix ran an article on it health plan.
MORE: Check out the Campus Cancel Culture Database
IMAGE: Jay Yuan S/utterstock
Like The College Fix on Facebook / Follow us on Twitter