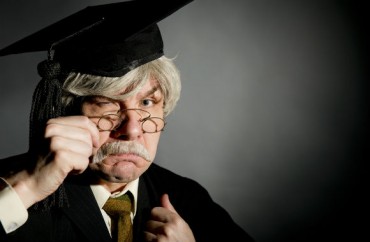 The Steinmetz Star has been publishing for 81 years at Steinmetz College Prep. Its printing costs are covered by the school's most famous alumnus, Hugh Hefner.
And it almost got axed because student editors pursued a story on the high school's new bell schedule.
Here's how the spat started, according to the Student Press Law Center:
The new bell schedule, implemented this school year, pushed the school start time back an hour to 9 a.m. The article addresses the effects of the new bell schedule and includes data from a survey students conducted. In total, the student reporters received nearly 1,400 responses from students, parents and staff members. [Reporter McKenzie] Lacefield said she felt like there was nothing controversial about the story and the reporters had aimed to present different perspectives on the topic.
Nope – Principal Stephen Ngo thought it was biased, so he forced the paper to hold the article for months because 1) he wanted the local school council and school nurse interviewed and 2) he was "too busy" to review a revised version:
Ngo met with the journalism class on Dec. 16 to explain his decision. Lacefield said Ngo did not directly answer any of the students' questions and never gave a clear reason as to why he was censoring the article.

"It was useless, it was just kind of a waste of time," Lacefield said.
She got tired of waiting and published the story on her own blog ("Censored story on Steinmetz time change"). Other outlets picked it up.
.@hughhefner's alma mater Steinmetz Star newspaper to go online only in wake of 'censorship' https://t.co/ul96OK4WZg pic.twitter.com/NbpiNb5mg7

— Linze Rice (@LinzeRice) December 29, 2015
Because he's a control freak and petty tyrant, Ngo dashed off this this email to school counselors:
"Scratch Journaism (sic) for next year. We will not be offering it anymore. There will be no more Steinmetz Star. I'm still deciding what to do with it for the second semester," Ngo wrote in the Dec. 26 email. …

Despite his email, Ngo said he has no intention of ending the journalism program at Steinmetz, adding that the students do a great job with the publication. Ngo said he wrote the email in an emotional state after learning that the stories were posted online.
The principal is still hinting that the print version of the paper may not be around next year. The question is, why is this two-faced lazy bureaucrat with a short fuse still around?
Like The College Fix on Facebook / Follow us on Twitter
IMAGE: Shutterstock