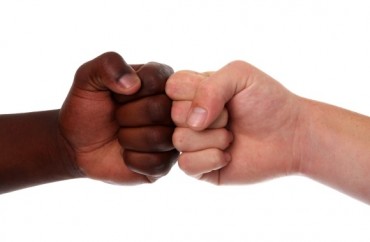 The student says it requires a narrow and negative take on America. The professor says it's aimed at inspiring racial harmony.
At issue is a recent assignment handed out in an English course at George Mason University.
Earlier this semester, students were instructed to take an image from a graphic novel about a slave rebellion leader "that connects to a key issue in today's culture where African Americans still face discrimination, inequality, prejudice, and worse: police brutality and death" and write an essay about it.
"Do you see a connection between what happens in the novel to today's Black Lives Matter movement," asked the essay prompt, assigned in English 302: Advanced Composition for Social Sciences.
The assignment angered one conservative student, who provided a copy of it to The College Fix, and said it would make her write an essay that goes against her political views. She said the thesis paints America in a negative context and prompts students to write papers arguing that the America of today continues to grapple with struggles common in pre-Civil War times.
"Yes, slavery isn't our proudest moment as Americans but we have come a far way since then and this prompt implies that we haven't at all improved," said the student, who asked to remain anonymous, as she is still enrolled in the course and does not want her grade impacted by speaking to the media.
"Nothing really good was said about America in our discussions about writing this essay and I hated being forced to listen in," the student told The Fix.
But Peggy Scolaro, the course's professor, said she hasn't had any complaints over the seven years she's assigned the essay and added it's the first time in her 21 years of teaching that a student has complained about an assignment in one of her courses.
She said the assignment aims for students to understand the harm of racial prejudice and inspire them toward racial harmony.
The 4- to 5-page essay, worth 20 percent of each student's overall grade, stems from the course's reading of Nat Turner, a graphic novel about the 19th century slave rebellion leader written by author Kyle Baker.
Students are instructed to select at least one specific image from the novel and tie it "to a current issue in the racial problems still affecting African Americans and all of us today."
"It's not enough to simply identify these two points of history," the assignment states. "Rather, your essay should go on to address the question: How can we come together, have a national dialogue, reach some level of understanding from each side of the issue, and ultimately try to heal our nation of the poison that is racism? Is racial reconciliation possible?"
Scolaro started teaching the graphic novel in 2010, and she explained the original essay prompt "simply asked students to argue for or against the effectiveness of the text, whether Baker is able to effectively convey the historical, sociological, and psychological weight of slavery through the 'comic book' medium."
She considered dropping the assignment in 2014 after shooting death of Michael Brown and the ensuing riots in Ferguson, Missouri, "wanting to back away from and not add to the escalating racial tensions."
However, students urged her to continue the assignment.
"To my surprise, students in unison cried out, protesting that I should continue because of my obvious passion for social justice and racial equality, that students needed to discuss these issues. Many students emailed me after that class to reaffirm their support," Scolaro said.
She revised the assignment in 2015, asking students if the novel's illustrations of racial discrimination be tied to racial discrimination in the present day. The "historical-to-current connection" was initially optional in 2015.
Scolaro said the papers "have always been among the most interesting and rewarding essays of the semester." She said she hopes it inspires students to "live in harmony with their fellow Americans who have been treated as less than human for centuries, understanding their feelings and the harm that racial prejudice has caused to all of us. This is the purpose behind my assignment."
But the student who reached out to the The Fix said she feels the assignment instructs students to write in one political direction.
"My initial reaction to this assignment was, 'Oh man, I guess I'm going to have to write an essay against my own political views to go along with what my professor and peers are saying to get that A,'" she said.
MORE: Students instructed to write essay on 9/11 from terrorists' perspective
Like The College Fix on Facebook / Follow us on Twitter
IMAGE: Shutterstock