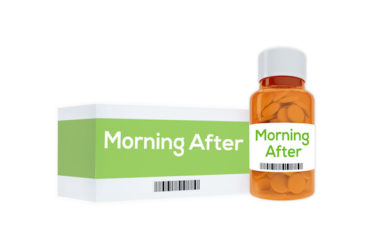 Student group says Georgetown won't 'meet our needs'; school apparently won't take action
This week Georgetown University's unrecognized pro-choice student group "H*yas for Choice" announced that it would begin providing Plan B emergency contraception to students on campus. The announcement was made via the group's Facebook page in a short video featuring the group's president, Angela Maske, and one of its spokeswomen, Elianna Schiffrik.
In the video, Maske points to Georgetown's longstanding policy of prohibiting contraceptive sales on campus as a major reason for this new initiative. "Georgetown does not make it easy to access the reproductive and sexual healthcare that our community needs. But if they won't meet our needs, we'll build our own systems and meet them ourselves," Maske says in the announcement.
Students will access the service by emailing the group with a request, after which a group member will set up a meeting location on campus to deliver the product. The group does not ask for payment, but does encourage students to make a $10 donation in order to help subsidize the cost.
Reached by The College Fix via email, Maske stressed that H*yas for Choice will not be selling Plan B on campus. "We will not be selling emergency contraception on campus, so we do not anticipate any change from our current offering of other contraception services."
"While we are sure that many in Georgetown's administration disapproves of our effort, we see it as necessary, and given the overwhelmingly positive response from the broader community, it seems that other people see it as necessary as well. Furthermore, after speaking with legal counsel, we are unaware of any mechanism Georgetown has to interfere with this service," Maske added.
When reached by The Fix for a comment on whether Georgetown intends to take any action against the group, a university spokesperson seemed to say no: "H*yas for Choice is not a student organization with access to university benefits and does not receive funding from the University. Individual students are permitted to express their opinions and ideas freely."
Reached for comment via email, Catholic Women at Georgetown President Erica Lizza told The Fix. "As a Catholic organization and in consideration of the Catholic Church teaching on these matters, we disagree with this program."
The Vatican has called Plan B an "abortifacient" and condemned the use of "morning after pills" as falling "within the sin of abortion," thus being "gravely immoral" under Church teaching.
Research indicates that emergency contraception can actually kill a newly-fertilized human being. The website for Plan B One-Step, a popular emergency contraception, states that the drug can work by "preventing attachment (implantation) to the uterus (womb)."
The websites for emergency contraceptives Take Action and My Way also make the same claims.
MORE: Students implore Catholic university to provide birth control, become more secular
MORE: Public university to sell emergency contraceptive Plan B from vending machine
IMAGE: hakafot / Shutterstock.com
Like The College Fix on Facebook / Follow us on Twitter