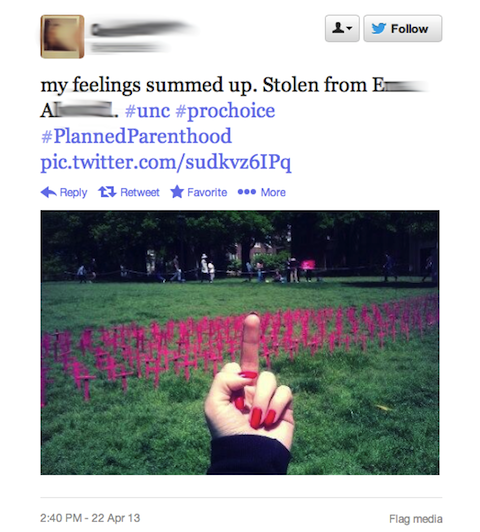 Pro-abortion advocates at the University of North Carolina took obscene photos and made profane jokes at a memorial of crosses pro-life students had set up to remember the lives of the unborn.
Students for Life has a full report:
The 915 crosses represent the 915 preborn babies who are killed every day at Planned Parenthood. Upon hearing the statistic, one pro-abort said, "It's a good thing Planned Parenthood commits that many abortions. It's what they should be doing."  Make no mistake – when we call someone "pro-abortion," it is because they are truly pro-abortion.

Just as we saw last week with a professor at University at Buffalo, pro-aborts just don't seem to be able to express their own views without resorting to profanity. At UNC-Chapel Hill, pro-abortion students proudly took pictures of themselves or jumped in the pictures of others making obscene gestures in front of the Planned Parenthood Project display.  One tweeted: "articulated my anger at the anti-Planned Parenthood activists by ripping up their flyers, shouting 'F[***] THE FOETUSES' (sic) and photobombing them." If that's what counts as articulate debate at UNC-Chapel Hill, the Tar Heels are in a lot of trouble.
It's appalling to read about. But the pictures are the most damning evidence of all.
For the full story, and more photos from the event, please visit StudentsForLife.org
Click here to Like The College Fix on Facebook.  / Twitter: @CollegeFix
(Images courtesy of StudentsForLife.org)