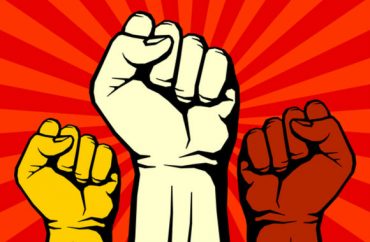 Death threats against author, too
It took death threats against the editor of Third World Quarterly for the academic journal that published "The case for colonialism" to finally take down the controversial article by Bruce Gilley, political science professor at Portland State University.
In a "withdrawal notice" posted on the now-blank "Viewpoint" article page, publisher Taylor & Francis said the death threats were "serious and credible" and "linked to the publication of this essay." It reiterated against contrary claims that the article had "undergone double-blind peer review."
Gilley himself had asked for the article's withdrawal following a coordinated international campaign to ruin his reputation and blacklist him from other journals, and to shame Third World Quarterly into removing it. Fifteen members of its editorial board resigned in protest of its publication.
Portland State has stood behind Gilley, though it put distance between itself and the besieged professor in a later statement.
Remarkable withdrawal notice on "the case for colonialism" https://t.co/hT8JvAaITS ht @RickyPo pic.twitter.com/tmFKhLwHxt

— Philip N Cohen (@familyunequal) October 9, 2017
MORE: Professors alarmed by blacklist against Bruce Gilley
The Washington Post reports that Taylor & Francis yanked the article just before Columbus Day, when anti-colonialism groups flex their greatest muscle each year against celebrations of European explorers.
Gilley has also deleted his apologetic statement from his own website, which now advertises his latest article, published in China Quarterly.
National Association of Scholars President Peter Wood said Gilley received death threats in addition to those against Shahid Qadir by "Indian nationalists," and he denounced Portland State for taking "no action to defend Gilley from the professional and personal attacks."
In a Minding the Campus post last week, Wood said he had talked to Gilley, the head of the association's Oregon chapter, who "now regrets" asking for the article's withdrawal and is "back in the fight."
MORE: Bruce Gilley asks for withdrawal of his colonialism article
Wood, a former professor of anthropology at Boston University, credited "the successful deployment of professional opprobrium and actual threats of murder to kill the article":
That success was ultimately aimed at ensuring that other scholars who dissent from the contemporary orthodoxy of anti-colonialism will keep their mouths shut. It is further aimed at ensuring that generations of students will see no whisper of dissent from this orthodoxy in the published literature, and hear no hint of it from their instructors.

The desire of the anti-colonialist faction to reach beyond Gilley to intimidate other scholars who might pick up his thread is a backhanded acknowledgment of Gilley's credibility and the force of his argument. Numerous scholars in the field are saying things to the effect that recognition of the positive effects of colonialism is long overdue. Such accolades are circulating widely but not—or not yet—openly. The anti-colonialist faction knows this and is desperate to keep the cork in the bottle.
MORE: Noam Chomsky warns against retracting Bruce Gilley's article
The state of academia: Journal article withdrawn for fear of violence. https://t.co/IyJ8j8lmM2 pic.twitter.com/g5xJfQEFZw

— Ari Armstrong (@ariarmstrong) October 9, 2017
He urged college leaders and boards to abandon the fiction that these threats to safety and career are "a matter of competing forms of free speech":
The freedom of one side to be vilified and the freedom of the other side to launch outrageous personal attacks are not moral equivalents. No university can long survive this kind of intellectual dissipation, no matter how eagerly it masks itself as protection of the weak and marginal. It has become its own form of tyranny, and the public will not long stand for it.
Read the withdrawal statement, Post article and Wood's essay.
MORE: Public university won't punish professor for defending colonialism
IMAGE: MicroOne/Shutterstock
Like The College Fix on Facebook / Follow us on Twitter