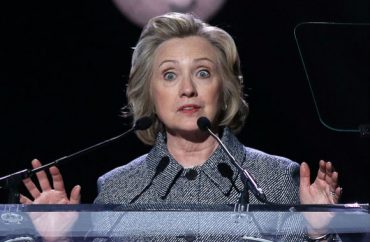 Can't use campus facilities for 'partisan political campaign activities' 
Students for Hillary at the University of Chicago, an unofficial group at the school, appeared to violate campus policies against using school resources for political campaigning in its work for Democratic presidential nominee Hillary Clinton.
It held phone banks for Clinton on Sept. 28, and Oct. 12, according to a since-removed Facebook post and a Google Docs form.
According to the four-year-old Political Campaign Activity Memorandum from the Office of Legal Counsel, which the university confirmed to The College Fix is current, "University facilities may not be used for political fundraising or any other partisan political campaign activities."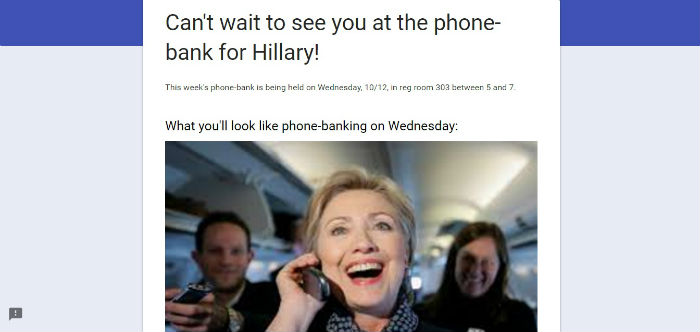 The policy also remains linked from an undated page on student hosts' responsibilities for their guests, specifically naming political candidates.
"Because students are not regarded as speaking for the University, the rules pertaining to student groups are somewhat less restrictive than those applicable to others within the University community," the policy reads.
"Student groups that are registered with the Office of the Reynolds Club & Student Affairs, or their respective division or professional school, may use University facilities for meetings as long as no political fundraising is conducted, the usual and customary fees for the facilities are charged, and participation in such activities is limited to members of the University community."
The policy, however, requires "prior approval" from both Student Affairs and the Office of Legal Counsel. It's not clear whether Students for Hillary was also making clear "in its written materials and at its events or meetings" that participants were not speaking "on behalf of the University," as required by the policy.
It's also not clear why Students for Hillary stopped its on-campus phone banking. Asked by The Fix whether it got permission to use university buildings for phone banking, the group said in a Facebook message "we have never been a Recognized Student Organization, are not supported by or affiliated with the University and are no longer using University facilities."
It did not answer a followup question about why the group stopped its phone banks.
The university declined to comment on questions about the unofficial club specifically, but did provide the 2012 Political Campaign Activity Memorandum in an email to The Fix.
The University of Chicago College Democrats have promoted other phone banking opportunities through its website, noting that the club does not endorse candidates but does list opportunities for students to get involved.
On Oct. 10 the group hosted a phone bank for U.S. Senate nominee Tammy Duckworth as well as state comptroller nominee Susan Mendoza, although no location is listed.
It also shared a post on Oct. 23 promoting a get-out-the-vote effort "here on campus" by NextGen Climate, an environmental advocacy group that is running a "Stand Up to Trump" effort on college campuses and nationwide. One of the opportunities reads:
Phonebanking: Come call voters with us to make sure they're early voting if they can. Let them know where their polling places are and recruit volunteers. We will train you beforehand.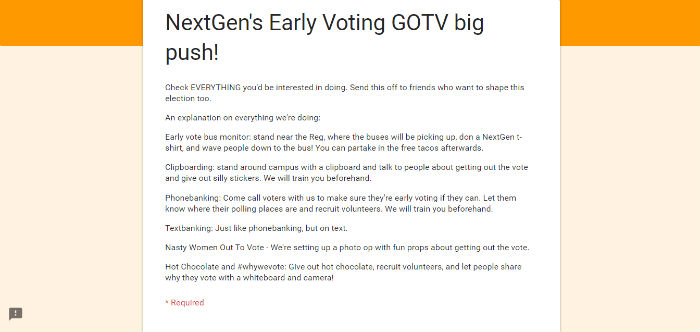 Other local groups have not appeared to use university resources to the extent happening at University of Chicago. The DePaul (University) College Democrats page shows that its events have largely consisted of canvassing and phone banking off campus, in apartments or campaign headquarters.
For example, on Oct. 8 the statewide College Democrats hosted a "Day of Action" for several candidates at campaign headquarters, not in campus buildings. A day of phone calls for Brad Schneider, a candidate for Illinois's 10th Congressional District, also appeared to be outside of the school.
The Loyola University-Chicago Democrats hosted a phone bank for Clinton as well on Sept. 27, but used a "victory campaign office" nearby to make the calls.
Like The College Fix on Facebook / Follow us on Twitter
IMAGE: JStone/Shutterstock
Like The College Fix on Facebook / Follow us on Twitter