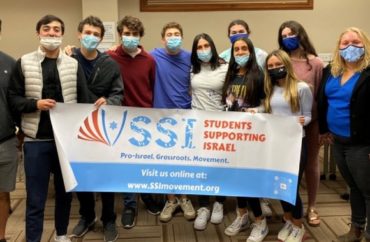 Said it is because Students Supporting Israel criticized an opponent
The president of Duke University's student government vetoed approval of a pro-Israel group because of one social media comment it made critical of a student.
Duke Student Government's President Christina Wang made the decision because Students Supporting Israel "singled out an individual student on their organization's social media account in a way that was unacceptable for any student group," according to an email reviewed by The Chronicle. This is the first time a veto has been used by the student government president in five years, according to the campus paper.
Wang said the social media post "appeared antithetical to the group's stated mission to be welcoming and inclusive to all Duke students, and educational in mission and purpose," the campus paper reported.
The offending comments occurred after a student named Elyana Riddick posted a photo on Twitter that said "My school promotes settler colonialism" along with a link to a story about SSI's approval.
"To Yana and others like her, please allow us to educate you on what 'settler colonialism' actually is and why Israel does not fall under this category whatsoever," the pro-Israel group wrote on its Instagram, according to The Chronicle. "These types of narratives are what we strive to combat and condemn, which is why Duke's chapter of Students Supporting Israel has been officially established & is here to stay."
Students Supporting Israel apologized for using Riddick's name in the post but later posted a letter defending itself against criticism.
View this post on Instagram
"SSI even commented my name under the post, calling me out and condemning me for speaking my mind," Riddick said. "This was completely unnecessary, unprofessional and undeniably targeted harassment."
"Who really benefits from clubs on campus that aim to combat and condemn opposing ideas on campus through student intimidation and harassment?" Riddick said in opposition to SSI's actions.
Riddick has a history of making comments critical of student organizations.
She criticized Greek Life in March 2021 for allegedly causing COVID outbreaks with recruitment events.
When pressed in a GroupMe chat about why Riddick was critical of fraternities, she replied "Because I could die of COVID so some white boy can drink a stale ass white claw."
Riddick commented on the freedom of students to publicly criticize one another's activities without punishment. "If that's the face you put out in public, I get to comment on that in public, and I get to criticize that," Riddick said, according to The Chronicle.
DSG approved the group on November 10 after a lengthy debate. The student government will debate  a possible override of Wang's veto today.
MORE: Check out the cancel culture database
IMAGE: Students Supporting Israel/Twitter
Like The College Fix on Facebook / Follow us on Twitter