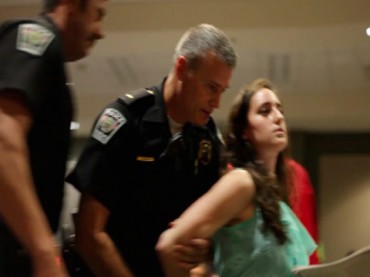 It began a week ago when Ohio University Student Senate President Megan Marzec took advantage of the then-popular ALS "ice bucket challenge" to … bash Israel.

In a video she made, instead of ice/water, Marzec uses a red liquid to symbolize the shed "blood" of Palestinians for which Israel is supposedly responsible, all the while muttering about the "genocide in Gaza" and "occupation of Palestine":

Marzec goes on:
"I'm urging you and OU (Ohio University) to divest and cut all ties to academic and other Israeli institutions and businesses."

"This bucket of blood symbolizes the thousands of displaced and murdered Palestinians- atrocities which OU is directly complacent in through cultural and economic ties with the Israeli state," she explained.
Ironically, Israel has been at the forefront of developing treatments for ALS.
Despite the rest of the Student Senate not taking kindly to Marzec's stunt, things went to the "next level" this past Wednesday.
At a meeting of the Student Senate that evening, pro-Israel students, the so-called "Bobcats for Israel," spoke out in favor of the embattled nation and against Senate President Marzec and her "blood bucket" stunt, among other things. For this, the students were arrested and charged with "disturbing a lawful meeting" (a misdemeanor):
Video is available at here.
Professor William Jacobson at Legal Insurrection (to whom the major hat tip goes for this story) received a note from an Ohio U. tipster stating (my emphasis)
I don't see how Ms. [Becky] Sebo was being unduly disruptive. Some of the context from the livetweeting shows that she was being shouted down by Marzec, and that audience members were attempting to physically assault her.

At any rate, Marzec ordering the arrest of her critics is ironic, because Marzec has been arrested for the same thing. And the crowd's chanting of "fascist" and "undemocratic" is ironic, given their applause for arresting the Bobcats for Israel.
The student newspaper The Post reports that President Marzec appears to have been the instigator of the whole imbroglio, interrupting the initial "Bobcats" speaker (Sebo) who was criticizing Marzec and her past actions:
Three minutes into Sebo's speech, Marzec interrupted Sebo, saying that the speech was blocking other students from speaking.

A chant was led by many of the Student Senate members, repeating phrases such as "this meeting is being hijacked by fascists" and "shame on bullies."
Keep in mind that Sebo was speaking during time allowed for public comments, the "Student Speakout."
After the arrest of Sebo and three of her companions, Marzec "stood on a table" and said "she would 'never apologize for standing up for the people of Palestine." She also stated "And I will never stand up for fascists. And this body won't either."
This, despite her interrupting someone else talking and then shouting her down (Sebo) … and then having her thrown out of the forum.
Missed irony much?
Dave Huber is an assistant editor at  The College Fix.
Like The College Fix on Facebook / Follow us on Twitter
IMAGE: Screen capture of The Post video