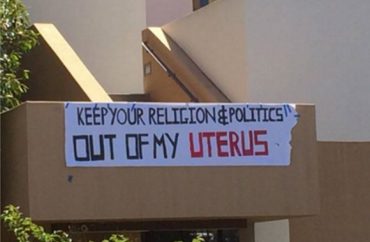 UPDATED
Students for Life at Cal State University Dominguez Hills have been denied participation rights in the ninth annual Labor, Social and Environmental Justice Fair, with event organizers telling the pro-life students their cause does not fit within the "framework" of the event.
"[Y]our application was denied based on the reasoning that your organization does not fit within the framework of this particular event," according to an April 14 email to the group from student event organizers obtained by The College Fix. The email added the event is student led and the decision was made by students on the organization committee.
(After publication, it was announced the decision has been reversed. Read more here.)
The decision echoes a similar one made by Women's March organizers in January, who barred national pro-life groups from participating in their march in D.C.
The email rejecting the pro-life club at Cal State Dominguez Hills directs pro-life students to other venues, such as the campus free speech area, an involvement fair, and new student orientations.
The social justice fair, a daylong event slated for Tuesday that's hosted by a wide variety of campus and unions, is "designed to connect students and members of the community with local unions and community organizations that are doing social justice work, while enjoying art, music, dance and theater," according to a university news release, which adds topics for the day will include "how to organize against attacks on workers' rights, particularly from the Supreme Court and Congress."
"We're proud to be sponsored by unions, student government and individual donations. We're overjoyed to have the participation of over 40 social justice organizations with useful resources and information," fair advisor and Labor Studies Program Coordinator Vivian Price told Dateline Dominguez. "As attacks on people based on race and religion and free speech mount under this administration, and the rights for a clean environment and good, safe jobs shrink and the very right to organize collectively is in jeopardy, we need to share our resources and work together."
Both Price and the Labor and Social Justice Club did not respond to multiple requests for comment from The College Fix seeking clarification on the "framework" used to determine that Students for Life could not participate.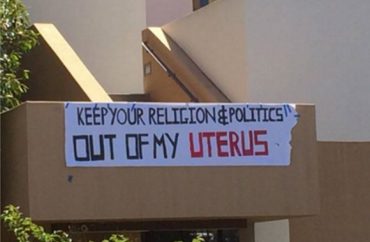 A banner anonymously hung on the campus recently saying "Keep your religion and politics out of my uterus" might offer some explanation (pictured).
Brent Stenhouse, a club adviser to Cal State Dominguez Hills Students for Life, expressed disappointment at the decision.
"As a social justice, human rights organization, the only reason we can imagine we were denied is simply politics: even though there are plenty of people from across the political spectrum who oppose killing preborn persons,"he said in an email to The Fix.
"Moreover, it appears that participation in this event is limited to individuals and organizations that toe the liberal line, marching in lock-step with the dominant ideology on campus: Marxism," he added.
This year's theme, "I exist because I resist," appears to resonate from the national resistance movement drawn firmly against President Donald Trump.
Several of the unions and organizations sponsoring the event have taken public stances against the president, such as the International Longshore and Warehouse Union, which trains members to resist illegal immigration raids and bemoans anti-union policy from the Trump administration, and the International Alliance of Theatrical Stage Employees, which has called Trump " temperamentally unfit" to be president.
Other large organizations sponsoring the fair include: California Humanities, a non-profit partner of the National Endowment for the Humanities; United Food and Commercial Workers; California Faculty Association; the ILWU Credit Union; California Faculty Association; Los Angeles County Federation of Labor; California Teaching Association; American Federation of Teachers College Guild; Ford & Wallach Law Firm; and Associated Students, Inc.
Editor's Note: After publication, it was announced the decision has been reversed. Read more here.
MORE: University leaders ban pro-life flag display, say it 'created an unsafe environment'
MORE: Washington State student tears down pro-life display because it 'really made me angry'
Like The College Fix on Facebook / Follow us on Twitter