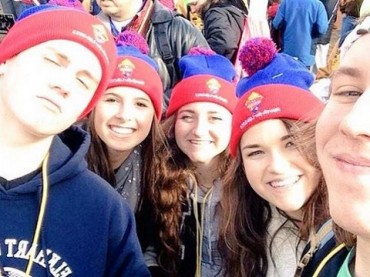 The University of Hawaii's recruitment of girls to participate in abortion research drew a small rally by Students for Life of America last week, the group said.
The research is testing whether "oxytocin can reduce bleeding in mothers during and after abortion," SFLA said.
"The researchers are recruiting girls as young as 14-years-old to participate in second trimester abortions, where the unborn baby is 18-24 weeks gestation and has a fetal anomaly," but SFLA doesn't know who's funding it:
 "We don't know if taxpayer dollars are paying for the study. We want an investigation into this research project, and we want it defunded now."
Though turnout was small, the rally included a minor celebrity: Jason Jones, who produced a movie with strong pro-life overtones, Bella, that got a small theatrical release several years ago.
Like The College Fix on Facebook / Follow us on Twitter