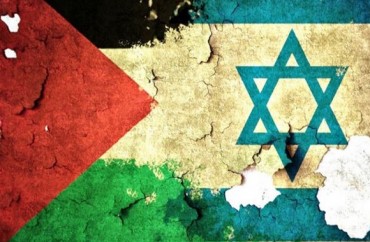 Update on these posts from May: Students for Justice in Palestine protesters who crashed a screening of a pro-Israel film and reportedly harassed attendees – including many women – could go to jail and get fined.
The University of California-Irvine chapter of SJP could also be banned from campus, according to the Student Press Law Center:
The university referred the case to the District Attorney, who has received the case for review and their investigation into the incident has not yet been completed, Roxi Fyad, the spokesperson, said. …

Tarek Shawky, the legal representative for some of the protestors, said that the students received notice their case was referred to the District Attorney's office, but they have not yet learned if charges will be filed. …

If they are charged, Shawky expects it to be a misdemeanor which typically carries a penalty of up to one year in the county jail and a $1,000 fine.
MORE: Exit paths blocked when pro-Palestine activists attack film screening 
Though observers told The Orange County Register in May that the SJP activists were shouting "Long live the intifada!" and trying to push their way into the screening room – leading the women inside to call police – the National Lawyers Guild of Los Angeles is disputing those accounts, citing its student observers from UCI Law:
No anti-Semitic language was used by any of the students, according to our observers. No students chanted "death to all white people" or anything similarly malicious toward fellow students. Indeed, the most "uncivil" language was used not by members of the protest, but by counter-protesters who screamed, "thank God" and "they deserved it," while a protester read aloud the number of Palestinians civilians killed by Israeli forces.
The SJP activists had been kept out of the screening – "arguably a violation of UCI policy" – but "the doors to the event were clear of students within ten minutes of the initial approach," said the letter to Chancellor Howard Gillman, whose public statement that night said protesters "crossed the line of civility":
[W]e are shocked by the treatment these students are receiving after what appeared to be a vigorous but normal campus protest. …

We believe your public comments constitute a threat to the students' due process rights and serve to sanction hostility against pro-Palestine and Black Lives Matter students, who are routinely subject to unprecedented levels of harassment and intimidation across the country, including on UC campuses.
Read the SPLC report and lawyers guild letter.
MORE: 'Intifada, Intifada—Long live the Intifada!'
Like The College Fix on Facebook / Follow us on Twitter
IMAGE: YouTube screenshot