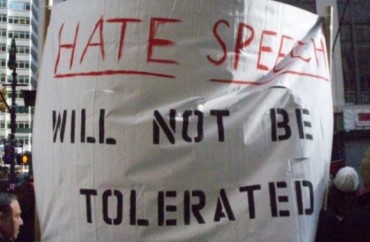 Students for Justice in Palestine at UCLA want their own free speech protected, but not that of their critics.
Following another campus flyer campaign by conservative activist David Horowitz that accuses certain students and faculty of being "allied … with Palestinian terrorists" in the boycott, divestment and sanctions (BDS) movement and "Jew Hatred," SJP has asked the administration to "prevent future attacks" on them, the Daily Bruin reports.
UCLA already has measures in place to take down Horowitz's flyers but SJP "wants administrators to implement a more thorough plan of removing posters that contain hate speech."
RELATED: Posters hung at UCLA link student Muslim groups to terrorism
Oh, and SJP wants a more strident endorsement from Jerry Kang, vice chancellor of equity, diversity and inclusion:
SJP acknowledged Kang's description of the organization as an official student organization in good standing, but would like to see a more explicit statement of support that describes SJP is a nonviolent human rights group.

SJP also called for the administration to train faculty members and Counseling and Psychological Services counselors to properly address and recognize Islamophobic and anti-Arab statements on campus.
SJP at #UCLA fights for its ability to criticize others, turns around and asks admins to #censor criticism of them. https://t.co/OQGbrRKIwY

— Ari Cohn (@AriCohn) April 20, 2016
RELATED: New UCLA resolution forbids taking sides on Israel-Palestinian conflict
Meanwhile, Horowitz is hopping mad at Kang for sending a campuswide email Tuesday that describes his flyer campaign as accusing the Muslim Student Association and SJP of "being terrorists and murderers," and as threatening and intimidating them.
The Daily Bruin separately reports Horowitz has sent Kang a letter demanding that he "immediately apologize and retract [Kang's] defamatory accusations" or face legal action, including "punitive damages" if Kang publishers further "pernicious falsehoods."
All of Horowitz's statements on the flyers are "facts," and none includes personal information on any targeted student or professor, his lawyers wrote. Kang, meanwhile, has promised legal action against Horowitz for violating "university policies on harassment and intimidation," the Daily said.
RELATED: David Horowitz takes credit for #JewHaters posters at UCLA targeting SJP
Like The College Fix on Facebook / Follow us on Twitter
IMAGE: Ashley Marinaccio/Flickr