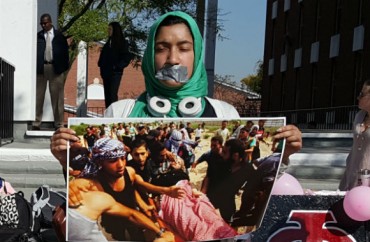 And J Street is about to join the mix at Rutgers
A pro-Palestinian leader at Rutgers University refused to support Israel's right to exist at a campus protest Wednesday.
The Students for Justice in Palestine event was countered by a pro-Israel demonstration across the street, whose leaders say their counterparts aren't interested in dialogue.
The wave of activism at Rutgers, which has a relatively high population of Muslim and Jewish students, comes amid a surge of fighting and deaths in the Israel-Palestine region in recent weeks.
The SJP members expressed their solidarity with Palestinians who lost their lives in recent weeks due to the conflict. Their mouths were duct-taped shut, as they stood in rows with pictures of Palestinian victims and signs explaining the violence.
Why does Israel need self-defense?
Asked by The College Fix whether Israel had a right to exist, SJP Vice President Naiha Khan dodged the question.
"Our cause is specific in standing in solidarity with Palestine," Khan said, declining several requests to give a "yes" or "no" answer.
She continued: "I support the right of Palestinians to exist, and then it is up to the Palestinians, however they want these policies and they want the [Israel] occupation to stop. Personally my solidarity is with the Palestinians and then you can interpret that as however you want."
She questioned whether Israel needs self-defense. "My question is against what?" Khan said.
"You're looking at a nation [Palestine] that has no army, no navy, no air force. What they have is a tiny piece of sliver that looks over the sea that Israel has — by the way — put a blockade on Gaza, for I don't know how many years now," Khan said.
Palestinians have the right under international law "to exist and resist," which "a lot of times the media does not report," Khan said. "So what we tried to do with this event is to shed light on the injustices that are happening that people are unaware that the media skews."
Palestinians supporting the boycott, divestment and sanctions (BDS) movement are simply asking for "the full rights of Palestinians," Khan said.
She's said she's not a fan of Hillary Clinton because the Democratic presidential candidate has called Israel the only democracy in the Middle East.
"You see Israel saying 'we are a Jewish democracy,' and that's kind of ironic because if you look at democracy it is freedom of religion and freedom of speech, but the Palestinians living in Israel, the Arabs, are treated as second-class citizens," Khan said.
'Openly anti-Semitic rhetoric is tossed around casually'
At a "dialogue booth" across the street, hosted by the university Hillel and Chabad chapters, members wearing "I Love Israel" t-shirts handed out literature and talked with passersby.
One of the pro-Israel participants, Hillel student board member Evan Gottesman, told The Fix in a statement he "very strongly" supports a two-state solution because it is "the only solution to this dispute."
Gottesman said that just as Palestinian leaders have rejected a two-state solution several times, even prior to Israel's creation in 1948, he didn't think SJP "makes a sincere effort to understand the Jewish narrative.
"The result is that openly anti-Semitic rhetoric is tossed around casually," Gottesman said. He noted that a commenter on the Facebook page for the SJP event "called a Jewish student a 'modern equivalent of a Nazi youth' and described Israel as a 'Neo-Nazi state.' The Israeli-Palestinian conflict and Nazi Germany don't even compare."
Another Hillel member, Gavi Dav Hochsztein, told The Fix at its booth that he applaud SJP "for standing up for a cause they believe in" but thinks "a lot of their understanding of a lot of the facts is a little bit flawed."
Hochsztein cited U.S. aid to Israel as intended for the nation's defense: "The Iron Dome, for example, is not an airstrike missile – it is a missile that is designed to intercept an already launched rocket so that it doesn't land and harm civilians."
Observing both demonstrations, student Aaron Kessler told The Fix he is trying to start a J Street chapter at Rutgers to bridge the divide between groups such as SJP and Hillel.
He described J Street as both pro-Israel and pro-Palestine and in favor of a "two-state solution, pro-peace, pro-human rights, for all humans involved." Its mission is about "the accountability of the authorities on both sides," Kessler said.
The national leadership of J Street's student arm recently elected its first Muslim president, who has made fighting Israel's "occupation" her top priority.
Kessler said he can't side with SJP because it's unclear "whether they support Hamas or not." While there have been "human rights atrocities" on both sides, "Israel is a democratic nation," he said.
Like The College Fix on Facebook / Follow us on Twitter
IMAGES: Matthew Boyer