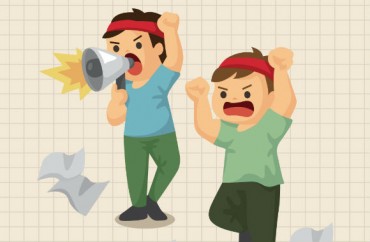 Some students at George Washington University were none too happy when volunteers from TFP Student Action (part of the American Society for the Defense of Tradition, Family and Property) showed up at the campus "Trustee's Gate" and presented a banner which read "God created them male & female. (Gen. 5:2) Stop the ravages of transgender ideology."
According to a report from the TFP Student Action news website, once students got to the banner they asked for one of the fliers the TFP group had.
That's when the "fun" began.
"I got you a dollar if you spit on one of them," one of the students said.  Another added, "If I wouldn't get caught, I'd kill them all."
Others joined in: "You don't belong here."  "Why are you here?"  "Is this some sort of joke?"
One of the TFP handouts was titled 10 Reasons Why Transgenderism Is the Family's Worst Enemy, according to the report. TFP volunteers attempted to discuss it, but the protesters weren't having it.
Eventually "[d]ozens of pro-transgender students and professional D.C. area agitators" began an effort to block the large TFP banner with hastily made placards of their own, with messages such as "F*** these guys" and "Respect existance [sic] or expect resistance."
"This is hate! This is hate!" an incensed woman cried again and again as she aggressively jabbed a TFP volunteer's chest with her finger.

"How is our message of common sense and truth hateful or harmful?" he asked.

Rather than responding, she only screamed louder.

Although TFP Student Action members found themselves arguing with as many as ten students at once, they were able to stand their ground and expose the absurdity of transgender ideology, using common sense and the principles of the faith.

The following exchange sums up how reason is vanishing:

TFP volunteer: "Women are XX and men are XY, and you can't change that."
Liberal: "That's totally different from gender. Gender is whatever you feel."
TFP volunteer: "If I can be whatever I feel, can I be a tree?"
Liberal: "Yes, you can be a tree."
TFP volunteer: "Then would you treat me as a tree if I said I was one?"
Liberal: "Sure! How does you being a tree hurt anyone?" …

Woman: "Look at you! You're all white!"
One volunteer, pointing to a fellow TFP member said, "We're both Mexican.  But even if none of us were white, would that change your view?"
Woman: "That's even worse! You're a traitor to your race! You should be supporting us!"
Things took a violent turn when a few protesters physically attacked TFP's Robert Nunez, Bentley Hatchett, and Matthew Shibler. Others were spat on, and their TFP fliers destroyed.
Mr. Nunez's assailant ended up getting arrested.
MORE: 'Genitalia-centered rhetoric' of women's movement is biased to transgenders
MORE: Sorority accepts men: 'A transgender woman is just as much of a woman as I am'
Like The College Fix on Facebook / Follow us on Twitter
IMAGE: Shutterstock