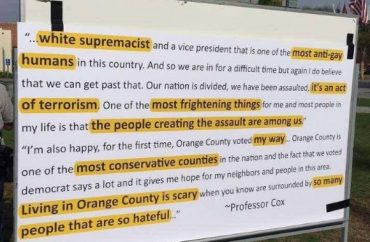 Shocking new details have emerged regarding the controversial Orange Coast College teacher who was recorded by a student telling her class "we have been assaulted, it's an act of terrorism" regarding the election of Donald Trump as president.
Two students in the class have come forward to say that what happened after the camera stopped recording might be worse than what instructor Olga Perez Stable Cox said about the election — that she asked Trump supporters to stand up and identify themselves.
Students Tanner Webb and Noah Faerber have told both CBS News and the Orange County Register what they witnessed that day in class.
"She was saying dehumanizing things about Trump supporters … and nobody felt like they could stand up. Me, in fear of my grade. And then she said, 'I bet none of you will stand up because you're embarrassed for yourselves. The rest of the class should look out for them and know who to protect themselves from,'" Webb told CBS News.
"She tried to get everyone who voted for Donald Trump to stand up and show the rest of the class who to watch out for and protect yourself from," Webb told the Register.
Faerber corroborated Webb's account to both publications.
In an email Monday night to The College Fix, Webb said he stands behind his statements, noting he spoke out because it was the right thing to do after the student who took the video faces possible punishment, such as suspension, for allegedly violating the teacher's privacy rights.
"I'd just like the school to realize that she did say those things, and that her rant was not started by any question by a student or any student that stood up in support of Trump," Webb told The Fix, adding he feels the teachers union is not being honest with what happened that day in class. "I also agree with professor's right to respectfully respond to student questions … but that is not the case here, because it simply is not what happened."
Orange Coast College student Vincent Wetzel, a computer science and political science major, told The College Fix he is aghast by the news.
"[It's] branding students like how the Nazis did to Jewish people in Germany," he said. "She has the freedom to say what she wants but she does not have a right to single out students in front of the class. That is unprofessional and uncalled for."
Rob Schneiderman, president of the Coast Federation of Educators AFT 1911, did not deny to the Orange County Register that Cox asked Trump supporters to stand. He told the paper: "Cox told the class some people would be happy with the election results, and a student stood up in approval. She then invited others to stand up and show their support if they wished."
The new details regarding the situation came at the same time as a large protest took place on campus Monday afternoon with students there to support the person who recorded the video and to denounce Cox's comments, and students there to defend the embattled professor's academic freedom.
The video shows the professor saying in part: "… white supremacist and a vice president that is one of the most anti-gay humans in this country. And so we are in for a difficult time but again I do believe that we can get past that. Our nation is divided, we have been assaulted, it's an act of terrorism. One of the most frightening things for me and most people in my life is that the people creating the assault are among us."
Cox went on to say the country is more divided than ever.
"We are way beyond Republicans and Democrats," she said. "… [O]ur nation is divided as clearly as it was in Civil War times. And my hope is that we will get leadership to help overcome that."
Said Schneiderman: "In these discussions she skillfully allows students to respectfully present their varying opinions. The inappropriately and illegally recorded lecture was no exception. Unfortunately, rather than take the opportunity to discuss the issues brought up by the professor, the student chose to secretly videotape the comments that they disagreed with and publish them to the internet. A classroom discussion would have been preferable."
At the protest, the two sides stood on opposite sides of a quad, holding various signs.
Those who supported Cox, a group of about 50, held up statements such as "OCC for Olga" and "Support Faculty Rights." Another sign also called out Edwina Recalde, an employee of the school and the mother of the president of the community college's College Republicans, Joshua Recalde-Martinez, who is a leading conservative activist on campus. The sign read: "Edwina Recalde … What are we paying you for?" The protesters also symbolically covered their mouths with duct tape.
Some professors allegedly offered students extra credit to show up to the protest and support Cox, students told The Fix.
On the other side of the aisle, a small group of roughly 20 students said they aimed to "stand up for conservative students who have suffered under Professor Cox's inappropriate rants," student Alexis Marfill told The College Fix.
The group had a laptop and speaker play videos of Cox on a loop (a second video clip has emerged with Cox saying that the region in which has "so many people that are so hateful"). The group also hoisted a giant sign with a transcript of her words.
"We are deeply concerned for the student who filmed the video, since the teachers union has threatened to take legal action on the matter," Marfill said. "Time and time again we have come face to face with leftist indoctrination on college campuses and I can say we are quite sick of it. We came today in small numbers and were the last ones standing at the end of it all."
"They say we want to suppress her freedom of speech, the irony is we are the ones that exposed her speech and it isn't our fault that they couldn't handle the facts of the matter. … We are always open to have dialogue with those who disagree with us because we want to inform the public and eliminate any misconceptions."
Meanwhile, Cox has left the state after receiving death threats, the Register reports.
MORE: Professor tells students: Trump's election an 'act of terrorism' (VIDEO)
MORE: Professors call Founding Fathers 'terrorists,' founding ideals a 'fabrication'
Like The College Fix on Facebook / Follow us on Twitter