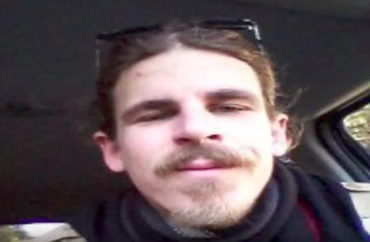 A former professor at a California college is claiming the Berkeley Police Department "targeted" him after social media fingered him as the person who bashed a Trump supporter in the head with a bike lock back in April.
Eric Clanton, formerly of Diablo Valley College, alleges the Berkeley PD charged him with assault with a deadly weapon based on "far right forum posts" and "unverified youtube videos."
In an online statement, Clanton wrote "Dealing with an unintelligible internet force smearing and threatening me online was not easy, and created stress to say the least, but I had every expectation that very few people would take them seriously, especially considering the character and credibility of their sources.
"However, five weeks later the Berkeley police smashed into two houses, held guns to peoples' heads, handcuffed, verbally abused, and stole the belongings of over a dozen people including books and zines."
Police did search Clanton's home back in May, and a department official said Clanton had been "under investigation for some time" and that investigators "obtained information from various sources" prior to his arrest.
In his statement, Clanton alleged that he was told by a Berkeley officer, during an interview at the police station, that "the internet did the work for us." The 4chan users also congratulated themselves for leading the police to Clanton and cheered his arrest.

BPD spokeswoman Officer Jenn Coats said the department would not comment on Clanton's statement because the case is still going through the court process.

"Our officers conducted a complete and thorough investigation, which was presented to the District Attorney's Office for charging," Coats wrote in an email.

Police have not said what role the online sleuthing played in their investigation, but in May, Capt. Ed Spiller told Berkeleyside the videos of the bike lock attack were staggering.

"As a normal person viewing the video, it's kind of shocking in my opinion," he said. …

"My case threatens to set a new standard in which right wing extremists can select targets for repression and have police enthusiastically and forcefully pursue them," [Clanton] wrote. "All of this moves in a strategy to further chill dissent, and to clamp down on resistance to the dangerous and aggressive growth of the exact kind of white supremacist violence that we saw this last weekend" in Charlottesville, Virginia, he wrote.
Clanton added that his predicament is "just one example of the police doing everything in their power to facilitate and to legitimize the violence and the rhetoric of the so-called alt-right."
He did not, however, specifically deny the charges against him.
MORE: Radical prof goes dark after digital mob calls him violent Berkeley thug
MORE: Prof accused of bludgeoning pro-Trump protester with bike lock arrested for firearm felony
Like The College Fix on Facebook / Follow us on Twitter
IMAGE: YouTube