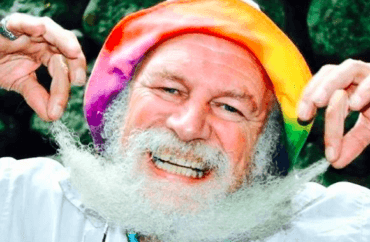 'I should have been included and heard,' professor says after first suspension in over 30 years
A professor at a public university has been suspended after singing along to a rap song in class that contained a racial slur, with student leaders on campus calling for "non-violent action" in protest of the instructor's behavior.
Southern Connecticut State University adjunct professor Eric Triffin, who teaches public health, "typically begins his classes by asking a student to pick and play a song," Inside Higher Ed reported earlier this month. "Many times he joins in the song and dances to it."
This song contained a derivative of the n-word in its chorus, to which Triffin sang along, telling Inside Higher Ed that the lyrics which he sang included the phrase "I am a happy nig-gah."
It is unclear to what song Triffin was singing along. Black Student Union president Eric Clinton told The New Haven Register that "Triffin's remarks were not part of the lyrics," but he said he did not know the name of the song.
Negative student reaction spread throughout the campus, according to Inside Higher Ed, with The Register reporting that one student in Triffin's class ended up "screaming" at him.
"I think I was relatively even-handed with the students and understood the anger he felt," Triffin told The Register. "I don't think everybody else in the class was agreeing with him."
Triffin was eventually suspended from his instructor position due to the controversy, with the president of the university Joe Berlotino telling students that the university was "investigating the matter fully and will take appropriate action as a result of the findings."
Reached via Facebook Messager, Triffin told The College Fix that "this is my first paid time off from SCSU in 32 years."
"I think that since I was really no risk of actual harm, suspension seemed over reactive to me after my 32 unblemished years teaching," he said.
Triffin, who said he apologized to a student who was offended by his use of the word, told The Fix: "My good name has been put into question and I have no way to contact all who have seen this, I have heard all the way to Portugal and Holland, and nationally here."
"I am impressed with President Bertolino's quick response to the community and his dedication to us all, but I do think I should have been included and heard and not been suspended," Triffin added.
According to Higher Ed, Bertolino intends to hold an "open forum" on the matter of Triffin's singing along to the song.
In a video posted to Facebook, black student union president and vice president Eric Clinton and Katia Bagwell, respectively, decried Triffin's use of the word in class.
"We will not stand for the racist remarks that come from the faculty or any member of the SCSU community," Clinton said. The two students called for "non-violent action at this time," including "mediation, peaceful protest and open conversation."
Neither Clinton nor Bagwell responded to Facebook messages from The College Fix seeking further comment.
MORE: Modern campus race lunacy in one (in)convenient package
MORE: Students want to prohibit 'slurs,' not 'unpopular' speech, survey finds
IMAGE: Facebook
Like The College Fix on Facebook / Follow us on Twitter