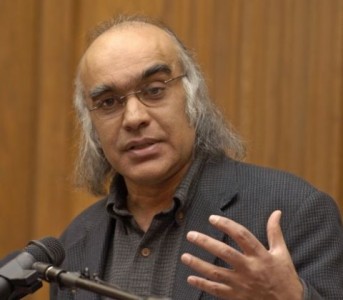 A popular yet openly liberal communications professor at the University of Massachusetts Amherst who has publicly disparaged Republicans and the Tea Party, and declared capitalism will be responsible for the deaths of millions, has been tapped to receive an honorary degree.
Sut Jhally, a communications professor at UMass Amherst who tweeted "The New Republican Party – American Terrorists," among many other controversial statements, will receive the recognition from Simon Fraser University this fall, its website states.
Jhally is a prolific filmmaker and author whose work spans decades, and he continues to be an academic darling among leftists. The honorary degree is one of many awards he's received over the years, including "best professor." But some conservative, libertarian and pro-Israel students at the University of Massachusetts at Amherst have found his bias to be overt and intimidating.
"I fully support First Amendment rights for everyone. I also think his comments are false, outrageous, offensive, and demonstrate the hypocrisy of UMass," Soroche Kohistani, a student and member of UMass GOP, told The College Fix this week. "For a professor to make such statements about Republicans or opinions different from his [own] is meant to intimidate and indoctrinate students."
And while Jhally is often praised on RateMyProfessor.com, with an A-minus grade on the website, comments about his bias are also evident.
A review from May 7 of this year stated: "The class is 'media, PR & propaganda' but ironically the whole class is his own propaganda, especially when he gets to the Israeli Palestinian conflict. From the beginning he left out facts and demonized Israel – NOT OK." Another from Dec. 2014 noted: "Sometimes is a bit preachy with his agenda, very liberal (shocker), but its not too bad."
Other students find his class to be "mind blowing" and "life changing," RateMyProfessor reviews note.
So what has he said outside the classroom, exactly?
SoCawlege.com, which last week broke the news about Boston University assistant professor Saida Grundy's tweets disparaging white college males and declaring slavery is a "white people thing," focused in on Jhally's online statements this past week as well.
Increasingly, Twitter is becoming a tool to expose the thoughts and biases of professors, and Jhally is no exception.
In a series of tweets in 2013, he declared "The New Republican Party – American Terrorists," and in another called conservative members of the Supreme Court "frat-boy fascists." Both of these tweets, respectively, were link to articles (here and here) that do not mention the phrases or terms Jhally used, which indicates calling the GOP American terrorists and conservative members of the Supreme Court "frat-boy fascists" is the professor's own editorializing.
Jhally also tweeted in 2013 the Tea Party wants to bring America back to a "pre-civil rights" era, and in another stated the Second Amendment was ratified in order to protect slavery.
His Twitter account has been inactive since January of this year. Professor Jhally did not respond to a request for comment from The College Fix.
The professor is no stranger to controversial statements. He has a history of denouncing traditional American values and institutions, such as capitalism. In a 2010 speech, Professor Jhally said:
"[A]dvertising is the most powerful and sustained system of propaganda in human history and its cumulative cultural and political effects, unless very quickly checked, will be responsible for destroying the world as we know it. In the process of achieving this, the masters of the advertising system, global corporations, bent on nothing but private profits, will be responsible for the deaths of … millions of people, mostly non-Western. In addition, the peoples of the world will be prevented from achieving true happiness. Simply stated our survival as a species is dependent upon minimizing the threat from advertising and the commercial culture that has spawned it."
Jhally's apparent support for communist notions was also illustrated in a 2013 tweet in which he bemoaned the misrepresentation of Hugo Chavez upon the dictator's death. Some students, however, have found it ironic that a communication professor supports a regime that repressed independent press and built up a state propaganda machine.
The UMass Amherst communication department website states Jhally teaches the undergraduate classes "Advertising as Social Communication," "Gender, Sex and Representation" and "Media, Public Relations and Propaganda."
Additional tweets of the professor's highlighted on SoCawlege.com include one in which he tweeted a link to a Glenn Greenwald piece on the Islamic beheading of a British soldier in the U.K. The piece argued that the act shouldn't be called terrorism, mostly over semantics.
According to an open UMass's database of educator salaries, Jhally earns roughly $100,000 annually from the public university.
College Fix reporter Nick Pappas is a student at the University of Massachusetts Amherst.
Like The College Fix on Facebook / Follow us on Twitter
IMAGE: Sut Jhally website