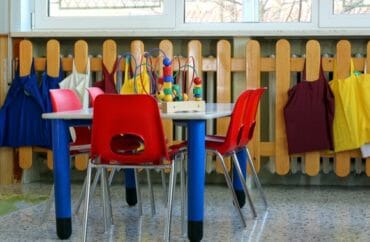 Professor research includes visit to IKEA store to test theory on 'small chairs'
An Australian professor has taken aim at the "small chairs" used in early childhood education, calling them "problematic."
Such furniture can haunt individuals, and they symbolize "the undervalued nature of teaching young children," Jane Bone writes in her recent article published in the journal Contemporary Issues in Early Childhood.
"Chairs, as objects that furnish human lives, can also haunt those lives and give contradictory messages of power, comfort and suffering," the senior lecturer at Monash University in Melbourne writes in the abstract of her paper, "Ghosts of the material world in early childhood education: Furniture matters."
She continues: "Now and to come, the chair is a trace, a symbol, an instrument of torture and object of desire."
What's more, Bone details in her article how she visited an IKEA furniture store and sat in "small chairs" as part of her research on the topic.
The paper was flagged by the Twitter account New Real Peer Review, which highlights academic papers it finds laughable and says it has been the target of doxing attempts.
Bone did not respond to The College Fix's request for comment regarding her paper.
'Haunted by the dead white males'
Bone explains in the abstract that her goal is "to trouble the position of the small chair in childhood settings" and writes that child-sized furniture is often "taken for granted" when situated in the classroom.
The professor asserts that "ghosts haunt educational contexts" and grounds her findings in the study of "hauntology," a concept drawn from a 1993 work by a French postmodern philosopher that posits "Marxism would haunt Western society from beyond the grave."
"I am drawn towards this approach by a personal experience of being haunted by an object from the material and everyday world. There is always a story attached to a ghost," Bone writes.
As for early childhood education, Bone writes that it is perpetually stuck with ghosts because of the white males that have influenced the field of education over the years.
"In terms of theory, early childhood education is haunted by the dead white males who still whisper their theories in the classrooms of the present, and inhabit thoughts and conceptualisations about children and their lives," Bone writes.
That's one way of reviewing the literature. pic.twitter.com/FlRhHSDMIt

— New Real Peer Review (@RealPeerReview) January 17, 2018
Bone clarifies that the ghost haunting her is not one of those "dead white males" but rather that of Maria Montessori, the famous educator who created the Montessori method of childhood education.
Bone deems Montessori responsible for bringing the small chair to the classroom, "suited to [children's] height and weight":
I am not sure that she envisaged that this child-sized chair would take over nearly all environments where children learn. It is difficult to enter a preschool without immediately seeing the small chair.
'The chair is a mediator of power'
Mentioning her initial "encounter with the small chair," Bone writes that she felt the piece of furniture was speaking with her and indicated that the preschool classroom is "a workplace that is gendered, feminised, child-focused and ultimately disempowering."
"If a chair that fits the adult body is needed, it probably will not be found in the average preschool," she said, citing what she described as "anecdotal evidence."
The evidence mentioned by Bone in the article includes conversations in which students studying childhood education said they sometimes sit on small chairs during meetings and a teacher who says that most furniture for children is built for their size.
As part of her research, Bone even visited an IKEA furniture store so that she could sit in child-sized chairs. Included in the article are two pictures of Bone sitting in small chairs. The author also included a brief account of the experience.
"I lowered myself into a small wooden chair; once in position my knees were up by my chin and for some reason I felt like a young child. I was that young child again," Bone said.
In her paper, Bone suggests that the chairs are a symbol that tell teachers they are "here to work and like women in retail, hospitality and catering, and at home, you will run around after others and not focus on what you might need for yourself."
What's more, the professor argues that the small chair also represents the minimal credit that teachers receive for doing their jobs.
"The small chair symbolises the undervalued nature of teaching young children and the lack of respect that haunts the professions connected to caring," Bone writes.
Oh, chairs in classrooms oppress teachers. Seems legit. pic.twitter.com/2cSiXdmeNn

— New Real Peer Review (@RealPeerReview) January 17, 2018
The author does find a bright spot in small chairs, namely their discomfort. Citing research that finds excessive sitting to be unhealthy, she said these uncomfortable small chairs may encourage teachers not to sit for extended lengths of time.
However, at times when they do sit in the small chair, she suggests they can appear as a sort of throne for the teachers.
"In most cases, the teacher sits in a small, uncomfortable chair to read a story and do 'circle time', while the children sit on the floor. The chair is a mediator of power in these spaces," Bone writes.
MORE: Paper defends laziness as a 'virtue' that 'combats the neoliberal condition'
IMAGE: ChiccoDodiFC/Shutterstock
Like The College Fix on Facebook / Follow us on Twitter