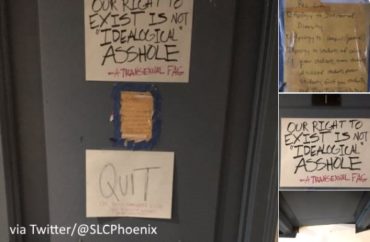 Samuel Abrams, a political science professor at Sarah Lawrence College, has come under attack from students — and even his boss — after reporting on his survey which found liberal staff members on campuses outnumber their conservative counterparts by a ratio of 12-to-one.
The self-described "conservative-leaning professor" recently published the results of his nationwide survey of roughly 900 administrators in an op-ed in the New York Times on Oct. 16 titled "Think Professors Are Liberal? Try School Administrators."
Abrams said he conducted the research and wrote the article because he felt there is a problem on campuses that needs to be addressed.
"Everything's incredibly progressive. Everything seems to be very, very particular in one direction and something is wrong. Why? The students really aren't that ideological. And some of the faculty are, but a lot of my research showed … there's got to be something else. That's what this is," Abrams told The College Fix in a telephone interview.
Abrams said the op-ed was not directed at anyone or any specific group.
"The op-ed very clearly didn't go after anybody in particular. It simply said there are some things that are out of balance and we need to bring some balance, or restore balance, to our sense of higher ed," Abrams told The Fix.
After the op-ed was published, Abrams began to receive backlash on campus.
The Phoenix, the Sarah Lawrence College newspaper, reports that Abrams' office was vandalized by students furious over his column, some saying they felt "unsafe" by his presence, others demanding he quit:
One of the signs on Abrams' door reads "OUR RIGHT TO EXIST IS NOT 'IDEOLOGICAL' ASSHOLE" [sic] and was signed "A TRANSEXUAL FAG". The one below it was a to-do list of apologies, which included the Directors of Diversity and Res life, respectively, several minority groups, and "campus (general)." Below the list of demanded apologies is a sign reading "QUIT," and in smaller text, "go teach somewhere else, you racist asshat (maybe Charlottesville?)." Below that sign is one simply reading "QUIT," and several pieces of paper urging Abrams to "QUIT" are spread out at the foot of the door. …

The Phoenix understands that students placed letters and notes addressed to Abrams outside his door Tuesday night sometime between 8pm and 12am.

Bee Kinstle, '21, placed a letter of their own outside Abrams' door. They wrote that, as a bisexual and non-binary student, the discussion of their identity that Abrams seems to call for would make them "feel unsafe on campus."
An unknown person left these signs on Samuel Abram's door today, probably in response to his @nytimes op-ed. Story to follow. pic.twitter.com/MiQR8XYnPd

— The Phoenix (@SLCPhoenix) October 16, 2018
More recently, some sort of allegations and other profanity was written against the professor on the school's free speech board.
The free speech board in front of Hill House has been taken down. As of yesterday, it featured unproven allegations against Sam Abrams. pic.twitter.com/CagSAh69oK

— The Phoenix (@SLCPhoenix) November 3, 2018
The free speech board will be reinstalled tomorrow, according to a sign in its place. pic.twitter.com/V7VRMFPL8t

— The Phoenix (@SLCPhoenix) November 3, 2018
"The negative stuff is all the usual stuff and nothing particularly surprising. You know, 'oh you don't know what you're talking about. Oh, you're too close-minded,'" Abrams said.
However, it wasn't the negativity that has had the greatest impact on Abrams.
"What really struck me was just how many emails I got that were actually positive that say someone needed to say this, thank you, here's my story, here's how I struggled with it, here's what's been frustrating for me. To me that is the greatest finding of the whole thing," Abrams said.
Sarah Lawrence President Cristle Judd sent an email to the students addressing the article and reminding students of the college's "Principles for Mutual Respect," which were hyperlinked in the email.
"As part of our commitment to a powerful educational model, we must together strive to create an open, supportive, and fully inclusive community. That requires all members of our community to work together within a covenant of mutual respect. Such respect need not imply acceptance of a point of view, but it does insist upon the right to express the perspective as central to tenets of free expression and to use reasoned dialogue and intellectual persuasion to process differences in belief," Judd wrote.
However, despite the email, Abrams describes a contradictory conversation with Judd. Abrams told Reason he felt his boss pressured him to quit or find another campus to teach at.
"She said I had created a hostile work environment. If [the op-ed] constitutes hate speech, then this is not a world that I want to be a part of," Abrams said.
Reason also reports that Abrams said during his meeting with Judd that she implied he was "on the market for a new job."
"I am not on the job market. I am tenured, I live in New York. Why would I go on the job market?" Abrams told Reason.
Judd did not respond to a request for comment from Reason, and Sarah Lawrence administrators did not respond to emails seeking comment from The College Fix as well.
Despite the controversy, Abrams said he has no plans to stop writing and voicing his opinion on matters facing higher education.
"It's time to push back and say look, enough is enough," he said. "We have to have more respect for everyone and their diversity of views."
MORE: Liberal college profs aren't biggest problem; it's the liberal administrations
Like The College Fix on Facebook / Follow us on Twitter