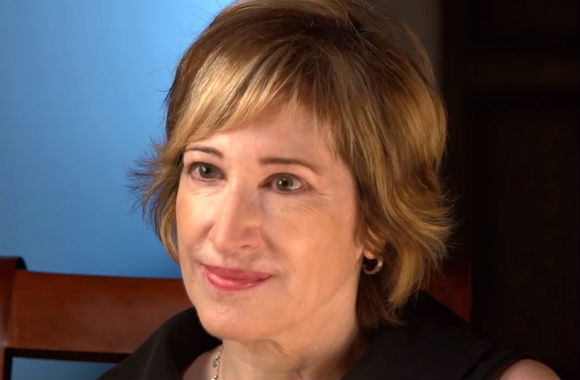 We'll get you in trouble with the feds
Two years ago, Laura Kipnis beat two Title IX investigations prompted by students who claimed she had created a hostile environment for rape victims with an essay about "sexual paranoia" on campus.
Now that she's written an entire book on the phenomenon, the Northwestern University film professor has been targeted by a new group of students claiming she broke federal law.
Unwanted Advances chronicles a one-sided sexual-assault investigation against a Kipnis colleague, former philosophy professor Peter Ludlow, and the Title IX "inquisition" against Kipnis that followed her writing about Ludlow's case.
She claims the private Illinois university wronged Ludlow when two female students, a graduate and undergraduate, accused him of sexual assault, saying investigators were influenced less by truth and more by damage control.
As a result, Ludlow lost a job offer from Rutgers University, and he was forced to resign from Northwestern during his termination hearing in 2015.
Kipnis mentioned the case in a Chronicle of Higher Education essay lamenting a new policy that bans faculty-student relationships. That sparked two Title IX inquiries, ultimately ruled meritless, that argued her words amounted to retaliation against rape accusers.
The exhaustive investigation led some faculty to worry it would create chilling effects on speech.
You used her 'educational record'
While the book has earned praise from reviewers at The New York Times and the Chicago Reader, some professors and graduate students have disputed Kipnis's polemic.
The Philosophy Graduate Student Association accused Kipnis of "the unauthorized exposure of private information and reckless, unfounded speculation about a junior member of the academy" – the graduate student who accused Ludlow – in a Daily Northwestern op-ed Sunday.
Kipnis violated the Family Educational Rights and Privacy Act by including material that "appears to be part of our colleague's educational record," but even if it's not, Kipnis still shared "very private details about an individual's life" without her permission or "opportunity to comment," they wrote.
Kipnis paints a picture of their colleague "that is often unrecognizable to us," according to the letter. "For instance, the conjecture that our colleague's Title IX filing against a faculty member in our department was motivated by a desire for revenge is implausible to all of us who have gotten to know this compassionate, conscientious and diligent student."
The letter notes that it was submitted in the association's name following a "majority vote."
Kipnis told The College Fix Monday that the Daily didn't ask for her response to the graduate students' allegations before publishing their letter.
"It wasn't my goal to retell that story" about the claims of Ludlow's graduate-student accuser, Kipnis wrote in an email. She acknowledged she did not interview the accuser, but she called it "disingenuous at best" to think the Ludlow's accusers would agree to speak with Kipnis for the book.
"I was reporting on what got left out," Kipnis said:
The discrepancies between that account and documents I had access to (including her own texts and emails) are a legitimate avenue of inquiry. If the portrait I draw in the book is dissonant to her colleagues, perhaps it's because private and public behavior aren't always consistent.
These grad students are "eager to bend federal power to silence someone with views they don't approve of," she said.
Only the Department of Education can determine a FERPA violation, "and since I used pseudonyms throughout the book, it's less than obvious it does. Still, it would be the basis for an interesting First Amendment case."
Kipnis made similar points in a letter to the editor published Tuesday, citing a 2002 Supreme Court decision that says FERPA "creates no personal rights to enforce."
'Gendered right-wing propaganda'
The film professor seems to have earned the enmity of the entire philosophy department.
Unwanted Advances makes "grossly inaccurate" claims and Ludlow's accuser is a "person of substantial character and high integrity," Prof. Jennifer Lackey, director of graduate studies, wrote on Facebook earlier this month. The statement was co-signed by Philosophy Chair Sandy Goldberg.
Lackey's statement prompted commentary from faculty outside Northwestern.
"Having read the book, it certainly seems very well documented," wrote Tom Bonfiglio, University of Richmond professor of literature and linguistics, in a reply to Lackey's post. "Just because the conclusion drawn from the verifiable facts isn't what you want it to be does not somehow change those facts."
Kipnis herself joined in to defend her work, responding to several negative comments in the thread.
"Every claim in the book is copiously documented," she responded to Lackey. "[A]mong the documents are some 2,000 texts and emails between the grad student and Peter Ludlow. There is indeed strong evidence for my assertions, which is why I decline to withdraw any of them."
That assertion spurred a response from Heidi Howkins Lockwood, a philosophy professor at Southern Connecticut State University who is mentioned in Unwanted Advances.
"I'm not sure how you'd document claims like the allegation that I'm a 'self-styled carpetbagging rape activist with a propensity for inserting herself into sexual misconduct cases,'" Lockwood wrote. "Such purple language is propaganda — and gendered right-wing propaganda, at that."
Lockwood has written about the failure of philosophy departments to protect students and faculty from sexual harassment. She played a minor role in the undergraduate student's lawsuit against Northwestern for Ludlow's alleged behavior.
Kipnis and Lockwood argued back and forth in the comment thread about Kipnis's claims and whether she violated the privacy of women who say they were raped.
"I notice that more than a few commenters here are mistaking the genre of the book," Kipnis wrote. "Maybe philosophers don't read outside their field that much, so let me clarify":
It's a polemic, not journalism. It's a work of opinion. It's based on reporting, and a close reading of the available documents, but the heart of the book is my interpretation of that material.
Like The College Fix on Facebook / Follow us on Twitter
IMAGES: Reason TV, Harper