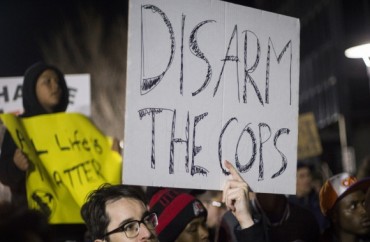 'Positive ideas' from student's meeting with president
Loyola University-New Orleans is thinking of telling its faculty when their students are members of law enforcement, after a classroom incident went viral last week.
Jefferson Parish Sheriff's Office Sgt. Josh Collins vented his frustration on Facebook about being singled out by his professor when, running late for class, the part-time student showed up in full police attire – gun included.
Collins' wife later joined in, accusing Loyola of publicly maligning his "integrity" in a statement it made after Collins described what happened in class.
But all misunderstandings appeared to have been cleared up by Thursday, when Loyola President Kevin Wildes met with Collins.
Vice President of Marketing and Communications Laura Kurzu told The College Fix that "a number of positive ideas were generated" from that conversation.
They include "making professors aware when law enforcement officers are enrolled in their class, and communicating gun policy to faculty and staff," Kurzu said.
'Ostracized' so 'flower petals' can be comfortable
When Collins showed up to class Dec. 7 armed and in uniform instead of his usual civilian clothing, it prompted a classmate to ask the professor to call the campus police, Collins wrote on Facebook that night.
He called himself a "white male conservative" who has "put up with a lot of prejudicial and biased comments directed towards me" on campus, but is mostly amused by "the ideals of a 18 year old ultra socialist."
Without telling Collins what was going on, the professor acknowledged the classmate's "uncomfortableness" and called campus police, Collins wrote.
The professor "pulled me out of class" while waiting for officers to arrive, Collins continued: "The police obviously never came and told [the professor] over the phone that I was perfectly within the law."
Feeling singled out as an officer of the law, Collins did not mince words.
"[H]ow ironical and dumbfounding is it that you called the police to tell them that there was a police officer sitting in your class?" he said, calling students who are afraid of going to class with police "sensitive indoctrinated liberal flower petals."
MORE: Police not convinced post-election 'Suck it up' note was hate crime
He blamed Loyola, a Jesuit institution, for providing an environment where Collins is "ostracized" so that everyone else could feel "accepted for who they are." Collins wondered if he'd have to "hide his profession in order to obtain a fair education."
Another student in the class, Anthony Alongi, backed up the basics of Collins' story.
"I decided to stay in class during the break," Alongi told The Fix in a Facebook message. "Right before class was about to resume our professor asked [Collins] to step out and see him in the hallway and he never came back to class. … it really was as simple as that."
'You Loyola are a coward'
The university's initial response apparently upset Antoinette Giusti Collins, the officer's wife.
It told local TV station WWL that Collins stood out more than a police officer because he was "wearing standard SWAT fatigues" instead of a more typical uniform.
According to the station, "Loyola University representatives say Collins' post isn't the whole story and that this whole situation is 'one big misunderstanding.'"
The school apologized to Collins, though, and said in a statement that it "unequivocally supports police officers… We are without question grateful for their service."
Giusti Collins broke her silence Saturday, posting a photo of her husband's alarm-inducing fatigues on Facebook and describing how he came to class wearing them.
She said "Loyola's press conference is just not doing it for me," and accused it of having "planted a seed of doubt in the minds of the general public of the integrity of my husband":
You say he didn't tell the full story. I don't know if you know this, but his job as a police officer is to recount and walk through events step by step in the greatest detail possible.

Shame on you Loyola, to say he was wearing fatigues that were indiscernible. …

Loyola, you had the opportunity to publicly come out and make things right but no you didn't do that. You came out and said oh the police officer must have misunderstood what had happened. …

He is a hero. And you Loyola are a coward.
Neither Collins nor Giusti Collins responded to multiple Fix requests for interviews. Their Facebook posts together have been shared more than 4,000 times, with nearly 1,800 comments.
MORE: Students say campus police protection is 'act of violence' 
Giusti Collins continued posting about the incident, linking to her husband's TV interview Tuesday and a shared post Thursday by former Republican vice presidential nominee Sarah Palin.
While wearing a traditional police uniform Tuesday, Collins told Fox Business that he had been wearing "a uniform very similar to this" in class last week, "only subdued green." Adding a new detail, Collins said his professor asked him to "hide" his firearm when he returned to class, but Collins refused.
He credited Loyola with taking his comments "very seriously" and said he had a frank discussion with the professor "about the way it was handled." Collins said he was "still in contact with" Loyola President Kevin Wildes.
"It's a little dumbfounding and slightly embarrassing" to have the police called because of him, Collins said.
New rosters can indicate which students are officers
Loyola's statement given to the Fix Thursday is largely the same one it distributed Monday, saying it was "proud to have Sgt. Collins as a member of our student body" and was "sincerely apologetic" for how the incident was handled.
The reporting student was acting "in light of" recent campus shootings, and the professor was only confirming that Collins "was indeed a police officer," per campus policy. It said Collins was never "kicked out of class" and police were never "'called to remove him,' as has been widely misreported."
MORE: Campus protesters demand police be disarmed, call them 'harmful to climate'
Kurzu, the Loyola spokeswoman, explained to The Fix that the university can "indicate on [class] rosters to faculty that they have a law enforcement officer enrolled in the class so that this type of situation does not occur again."
Going forward, an officer walking into class on an unsuspecting professor "will probably not be an issue," because Loyola offers "tuition abatement" to law enforcement and "can pull from that list," Kurzu said.
Collins is a snowflake too
Before Collins and Loyola reached an understanding, a local newspaper columnist accused the officer of being the very thing he mocked – a snowflake.
James Gill of The New Orleans Advocate said Thursday the controversy would not have been "worthy of a paragraph on the bottom of an inside page of the Podunk Weekly Advertiser had Collins not thrust himself into the public eye."
James Gill: Are Loyola's 'liberal flower petals' tough enough to intimidate a JPSO sergeant? https://t.co/78rML3PtNo pic.twitter.com/vgQygk7cga

— New Orleans Advocate (@theadvocateno) December 15, 2016
Gill said Collins "got the facts wrong" by not disclosing that he was wearing SWAT fatigues, which the reporting student might have seen as "an odd, not to say flashy, taste in clothes."
Regarding Collins' sore feelings on Facebook, Gill said: "There, there, sergeant. The public preference is for cops who are hard-nosed. Don't let some jittery kid upset you so."
The officer should have been reminded "that a man should take a minor misunderstanding in his stride," Gill said, and while denouncing "flower petals" on Facebook, Collins showed himself to be "a very delicate creature himself."
MORE: Four arrested in beating of pro-police high school student
Like The College Fix on Facebook / Follow us on Twitter
IMAGE: Shutterstock