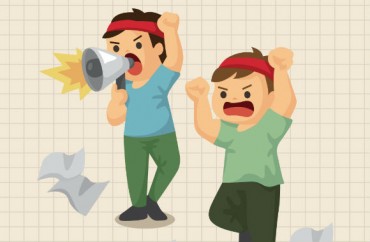 Yesterday, The College Fix reported on the disruption which ensued at Middlebury College when conservative/libertarian author Charles Murray attempted to deliver a lecture.
Protesters' antics at the venue eventually forced Murray to give his talk from another location.
If that wasn't bad enough, the Addison County Independent now reports that one of the professors who escorted Murray to the new locale was physically injured by a protester.
Professor Allison Stanger was "treated at Porter Hospital and released," according to the report.
"As Stanger, Murray and a college administrator left McCullough Student Center last evening following the event, they were 'physically and violently confronted by a group of protestors,' according to Bill Burger, the college's vice president for communications and marketing."
Burger said college public safety officers managed to get Stanger and Murray into the administrator's car.

"The protestors then violently set upon the car, rocking it, pounding on it, jumping on and try to prevent it from leaving campus," he said. "At one point a large traffic sign was thrown in front of the car. Public Safety officers were able, finally, to clear the way to allow the vehicle to leave campus.

"During this confrontation outside McCullough, one of the demonstrators pulled Prof. Stanger's hair and twisted her neck," Burger continued. "She was attended to at Porter Hospital later and (on Friday) is wearing a neck brace."

Murray, who apparently was unhurt in the incident, is best known for his 1994 book, "The Bell Curve," for which he was criticized for an assertion that people of different races have different economic outcomes because of their inherent difference in intelligence.
The Boston Globe reports Middlebury President Laurie Patton apologized for the melee, writing "Today our community begins the process of addressing the deep and troubling divisions that were on display last night.
"We must find a path to establishing a climate of open discourse as a core Middlebury value, while also recognizing critical matters of race, inclusion, class, sexual and gender identity, and the other factors that too often divide us."
Read the full Independent and Globe reports.
MORE: Conservative scholar shouted down at Middlebury College, forced to leave lecture hall
MORE: Paleoconservative accused of 'hate speech' disinvited to speak at Williams
Like The College Fix on Facebook / Follow us on Twitter
IMAGE: Shutterstock