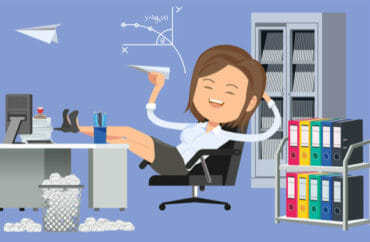 You'd expect the typical progressive to say that calling someone lazy is an ableist slur.
If you're the department chair of higher education at the University of Denver, on the other hand, being called lazy is a badge of honor.
Prof. Ryan Evely Gildersleeve, whose background is "primarily out-of-classroom learning contexts with non-dominant youth," argues today in the research journal Qualitative Inquiry that "lazy practices can become useful for postqualitative inquiry that seeks to disrupt normative explanations of the world."
In fact, laziness is "a political stance":
As political action, laziness, then provides postqualitative inquiry with an additional tool for contributing to social justice via social research. Laziness combats the neoliberal condition in which academic research is situated and might serve as a virtue of postqualitative inquiry.
Part of Gildersleeve's argument is redefining what is considered "lazy" in an academic context: Hiking and reading poetry are frowned upon under "the neoliberal imperative of modern academia," but they "might indeed be necessary for transforming research practices into becoming inquiry."
MORE: U. Denver students work to ban 'Pioneers' nickname
Unsurprisingly, the professor says the concept of laziness is used to harm poor people, nonwhites, "overweight individuals" and women. But they can also use laziness as a weapon against "the dominant power structure" by, for example, housekeepers "completing the minimum required to keep their jobs" to protest "the subjugation of their profession and personhood."
Gildersleeve's essential beef is against "neoliberalism," which he defines as "the wholesale application of free market ideology to the social realm" – not just "the monetization of faculty work-product" but such basic attributes of an ordered life as "encapsulated time," otherwise known as making appointments.
You can't achieve social justice while being a hard worker in the conventional sense, according to Gildersleeve:
Thus, to meet social justice commitments, postqualitative inquiry must affirmatively disavow neoliberalism and confront it with new sets of materialist/empiricist toolkits for configuring assemblages in retaliation of the reductionist economic becomings and becoming-economies. We must refute our work. We must become lazy.
He suggests academics are already well-situated to practice laziness because, well, that's their reputation:
Academics, having the most elite of educations, have the privilege to engage in lazy work/think/ play activities, even if differentially located in the political economy of American higher education. Indeed, the fact that many in popular culture believe that academics are already lazy begets a social opening to demonstrate how wisely such laziness can be useful in generating knowledge that confronts the neoliberal condition. Reclaiming the virtues of laziness can become part of the public good of university research.
Read the 10-page paper if you dare, or the abstract if you're … lazy.
MORE: U. Denver censors and surveils supposed 'free speech' wall
IMAGE: CuteCute
Like The College Fix on Facebook / Follow us on Twitter