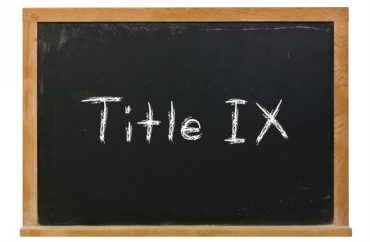 Instructor is 'confirmed sexist and bigot,' according to Title IX request
A University of Michigan-Flint professor is calling for a Title IX investigation at Northeastern University in response to a column by one of the school's professors that openly advocated hatred against men.
Mark Perry, a professor of economics and finance at University of Michigan-Flint, submitted a request earlier this month to Northeastern's Title IX department staff in response to sociology Professor Suzanna Walters' Washington Post op-ed titled "Why can't we hate men?"
In the op-ed, Walters, who is also director of Northeastern's Women's, Gender and Sexual Studies Program, wrote that it is "logical to hate men," implying that if women do not hate men, they are not real feminists. She also suggested that in order for men to truly help push female equality they must "vote for feminist women only. Don't run for office. Don't be in charge of anything. Step away from the power."
"And please know that your crocodile tears won't be wiped away by us anymore. We have every right to hate you," she added.
In an email to Northeastern, a copy of which was obtained by The College Fix, Perry argues that Walters violated the school's own "Policy on Equal Opportunity" which "prohibits discrimination or harassment on the basis of race, color, religion, religious creed, genetic information, sex, gender identity, sexual orientation, age, national origin, ancestry, veteran or disability status."
"She has not only publically demonized and belittled all males at Northeastern University, she called out publically for the universal hatred of all men, including all men at your university," he wrote. "That makes Ms. Walters a confirmed sexist and bigot in violation of Title IX and your university's own stated policies that prohibit such discrimination."
Perry suggested that Northeastern should prevent Walters from teaching male students, or have sway on decisions relating to male colleagues in her department, and be forced to partake in diversity training/anger management courses to address her sexism.
"How would it be possible for Walters to publicly state that she hates all men and not discriminate against them, any more than a KKK racist who gives herself the right to hate all blacks or gays, would not likely discriminate against those groups?" Perry asked in his email.
"How could a male student ever expect fair, just and equitable treatment while taking a class from Professor Walters, who has publicly expressed hatred for all men?" he added. "How could a male faculty colleague applying for tenure and/or promotion in the Department of Sociology and Anthropology expect fair treatment from Professor Walters, after her public admission of hatred toward all men?"
Reached for comment via email, Perry told The College Fix that even though he does not teach at Northeastern, he felt the need to send the complaint because he was "repulsed by the unprecedented level of pure misandrist hatred Suzanna Walters expressed uniformly towards all men" in her opinion article.
"While various topics related to feminism, women's issues and the #MeToo movement are open to debate among thoughtful people, and while opinions on those topics span a very wide range, the extreme position of hatred towards all men espoused by Walters crossed a certain accepted line of civility into vile hate speech," he said. "And that type of hate speech targeted towards an entire group should not be tolerated on a college campus, or should at least have some sanctions, and really should never have appeared in the WaPo, in my opinion."
"I'm waiting to see what happens and am anxious to see how NU reconciles a self-declared hate-mongering professor on its campus with its commitment to an inclusive campus environment that is free from hostility towards male students and faculty," Perry added.
The Northeastern Title IX department and Walters did not respond to The College Fix's request for comment on the matter.
MORE: 'Hate has no place here': University responds to prof's call to hate men
MORE: Students told term 'be a man' represents toxic masculinity
IMAGE: CLS Digital Arts / Shutterstock.com
Like The College Fix on Facebook / Follow us on Twitter