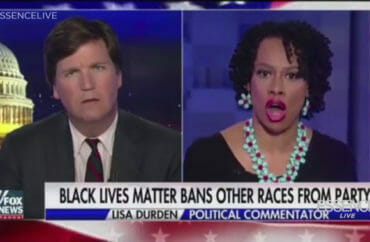 UPDATED
Based on the state, not federal, constitution
An adjunct professor who was canned after defending a blacks-only Black Lives Matter event has sued her former employer, claiming the public college violated her free-speech rights under state law.
Lisa Durden was fired from Essex County College last year after her appearance on Tucker Carlson's show on Fox News, but the New Jersey school has struggled to explain the legal grounds for her termination.
She made clear in a phone interview with The College Fix this week that she hopes her state lawsuit emboldens others to speak without fear.
"I want people to feel comfortable and to be able to express themselves and take a stand," she said on the call, which was joined by her lawyer Leslie Farber.
Durden's punishment was a "denial of civil rights" and she's seeking "lost pay and emotional distress" caused by the college's actions toward her, Farber said. She's also seeking "reinstatement" in order to resolve the lawsuit.
But she's not waiting for Essex to come calling, however. She's a panelist on the WWOR news and talk show Chasing News, and is developing "several new projects" on her own while "always pursuing new opportunities," she told The Fix.
Durden calls herself  "a subject expert in pop culture" and has been doing it "for 10-15 years."
MORE: Professor suspended after telling Tucker Carlson 'Boo hoo'
Free speech for all – when it serves 'our student body'
The former professor's lawsuit against Essex, its president and chief academic officer claims the college violated Durden's free-speech rights under the New Jersey Constitution and created a "hostile work environment" in violation of the New Jersey Civil Rights Act.
Essex also breached her contract and defamed her character, the suit claims.
During her Fox News appearance, Durden said the Black Lives Matter event on Memorial Day in New York City was intended to be a "safe space" for blacks, where they could "celebrate" without "anyone to go against them." She was not identified on the program as an Essex professor.
In a video statement, Essex President Anthony Munroe said the college "supports and affirms the right of free speech and independent views" for faculty, but only when it works "in the service of our student body."
Black Lives Matter​ group in New York holds an "exclusively black" Memorial Day party… and asks all other races to stay away. pic.twitter.com/M24KFpXzPw

— Tucker Carlson (@TuckerCarlson) June 7, 2017
MORE: Durden situation shows 'safe spaces' can be turned against progressives
Without naming Durden, the president said the school "firmly reject[s] and denounce[s] any conduct that implies that all students are not welcome to participate in" activities because of their race.
Munroe also publicly claimed the college was "immediately inundated with feedback from students, faculty, prospective students and their families expressing concern and fear" about Durden, leading the college to drop her.
The Foundation for Individual Rights in Education sought evidence of this alleged bombardment from Essex, finally suing for the records when Essex didn't turn them over.
The records showed the college received a single complaint about Durden's appearance in the first two weeks, and not from its own community. They also showed administrators talking about firing Durden before anyone had complained about her, in contrast to Munroe's claim the school was "immediately inundated."
MORE: Essex won't say why it fired Durden
Essex knew she was a 'Radical Woman in Media' when it hired her
While Durden's lawyer Farber blocked certain questions and limited how much her client could tell The Fix about her time after leaving Essex, citing potential interference in the case, the suit adds details to those uncovered in FIRE's litigation.
Durden's suit says she was employed for less than six months even though she "had intended to be a career employee" of the school. She suffered lost wages and benefits because Essex had already scheduled her to teach two fall courses.
Essex knew her views because she "previously had facilitated various workshops" and sat on speaking panels at Essex, "including one entitled 'Radical Woman in Media.'"
The suit says her department chair, Christopher Rivera, stopped her from teaching her class two days after her Fox News appearance because "he thought [Durden] was being fired."
Rivera forced her to tell her students that class that day was canceled without any explanation, which was "embarrassing and humiliating," then accompanied her to human resources, according to the suit. It further adds that the defendants' behavior "physically sickened" Durden.
MORE: One person complained about Durden, records show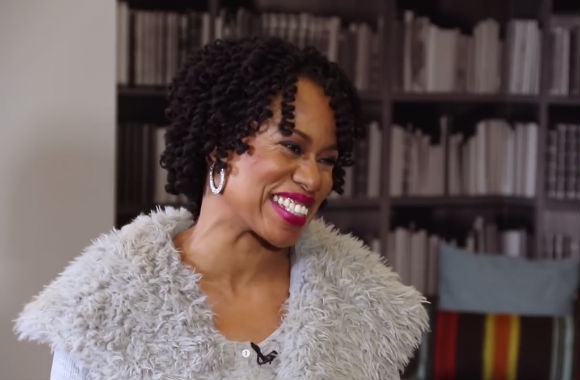 The HR director told Durden she was suspended, "falsely" claiming that she had mentioned her college affiliation on the Fox News segment. Jeffrey Lee, the chief academic officer, allegedly told another professor that the "adjunct" Durden "can sue" if she didn't like the punishment.
The suit notes that Durden spoke at a board of trustees meeting "about the right to free speech and academic freedom in general" and Durden's "wrongful suspension" in particular, three days before she was fired.
The suit goes beyond state constitutional and statutory law, pointing to common law that gives an employee a "private cause of action where an employer discharges an employee contrary to a clear mandate of public policy."
In this case, that policy is the freedom of everyone to "speak freely, write and publish her sentiments on all subjects," including a person who made "public comments on a television news program," the suit says.
CLARIFICATION: Durden asked The Fix to clarify after this article was published that she is working independently on her own projects, not getting hired for other projects. The article has been amended accordingly.
MORE: FIRE sues for documents on Durden's ouster
IMAGES: Essence/YouTube, Foundation for Individual Rights in Education/YouTube
Like The College Fix on Facebook / Follow us on Twitter