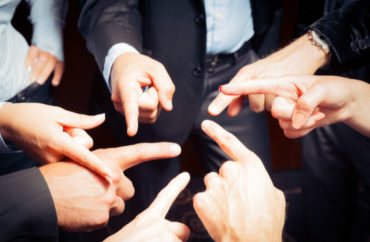 The recent Google memo written by an employee that issued skepticism about the company's diversity efforts isn't legitimate because its arguments are based on "shoddy science" in a field in which research "supports a patriarchal view," a University of Washington professor argues in a recent op-ed she penned.
Campus Reform reports that University of Washington physics research associate Chanda Prescod-Weinstein made that assertion in a piece published by Slate in which she essentially argues that the claims made in James Damore's "Google's Ideological Echo Chamber" memo are junk science.
In his controversial memo, Damore, a Google software engineer, made the case there are biological differences between men and women that account for the careers they hold. Damore was later fired from Google because of the memo.
In her op-ed, Prescod-Weinstein took issue with Damore's line of thinking and lambasted his assertions and the scientific field at large.
"It's 2017, and to some extent scientific literature still supports a patriarchal view that ranks a man's intellect above a woman's," she said.
She didn't stop there.
From the Campus Reform article:
Specifically, Prescod-Weinstein takes issue with the contention—related to her by a "well-known scientist"—that "the Google memo failed to constitute hostile behavior because it cited peer-reviewed articles that suggest women have different brains," arguing that "peer-reviewed" is not synonymous with "correct."

Prescod-Weinstein asserts that, rather than placing value in the contents of peer-reviewed scientific articles, we should recognize that "science has often made its living from encoding and justifying bias" and is "conducted primarily by white men."

Noting that Thomas Jefferson once wrote that black people were "inferior to the whites in the endowments of body and mind," for instance, she contends that "rather than being much of a scientist, he was a biased white supremacist who hid behind science as a shield."
While Damore's memo received heaps of criticism, including from academics like Prescod-Weinstein, others came to its defense. Science writer Debra Soha, who holds a doctorate in sexual neuroscience, called the memo "fair and factually accurate."
Read the Campus Reform article and Prescod-Weinstein's op-ed.
MORE: Sexual neuroscience PhD: The engineer who wrote the 'Google memo' is right
Like The College Fix on Facebook / Follow us on Twitter
IMAGE: Shutterstock