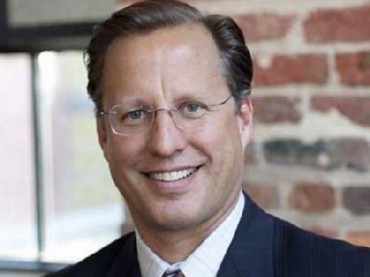 Professor David Brat is largely described as a smart and sexy – yet scatterbrained – educator by students who have taken his classes at Randolph-Macon College.
That according to comments about Brat and his job performance on the popular "Rate My Professors" website – which college students often use when choosing classes.
Brat's RateMyProfessors page boasts mostly positive reviews, with adjectives such as "charming," "hot," "eye candy" and "solid" tossed around.
Several students pointed out he could be scatterbrained, but were willing to overlook that because he infused intelligence and humor into his lectures, with a few saying his good looks were quite disarming.
Professor Brat's "average" score was a 3.4 out of 5 taking into account factors like helpfulness, clarity, and textbook use. He was also rated as 3 chili peppers out of 4 as a "hotness" rating.
"He's so charming and really knows how to incorporate real world examples to keep the class exciting and (relatable)," one student wrote. "He change(s) assignments a lot and sometimes it's unclear what he wants you to do. Plus he's total eye candy!!"
"At least he's hot!!" stated another, who added nothing else to their comments.
"Brat changes assignments all the time, but he is so charming, you forget to be mad at him," a third explained.
"Not a great teacher. Great guy, but almost too smart to teach," offered a fourth.
One student summed up their experience with Professor Brat by simply saying: "SOLID."
"Dr. Brat is unparalleled in his knowledge, guidance with learning, caring about his students, and his ethics," added another voice.
Someone even declared Professor Brat was "one of the best teachers I have had."
But as Brat has already been weighed and measured by his former students, America continues to size up the scholar – a near household-name after his primary upset of Eric Cantor in Virginia's 7th Congressional district Tuesday.
Brat is a professor at a small, private Virginian college named Randolph-Macon.
The professor's faculty page provides an interesting list of courses: Business Ethics, Principles of Micro Economics, and Public Finance.
But the class that stands out is "Economic Justice" – a term often used by liberal academics to decry capitalism and advocate for socialistic entitlement programs.
The course is described as examining "the major conceptions of economic justice primarily in the western world. Major ethical schools of thought include the Socratic/Platonic/Aristotelian, the Judeo-Christian, and the Enlightenment school of Locke, Rousseau, Kant, Mill and Marx."
The course also covers Adam Smith, John Maynard Keynes, and Milton Friedman- a healthy survey of economic thought.
In an interview with Randolph-Macon's school paper The Yellow Jacket earlier this year, Brat explained how he felt prepared to face Cantor in the primary:
"The general motivation is all on the fiscal and economic side," Brat said. "I've been teaching for 18 years and I'm on the governor's economic board for the last 6 years. I'm on the board of accountancy as of this year. I've always tried to combine economics and ethics. I went to seminary, Princeton seminary, before I did my Ph.D. in Economics, and ever since I've loved economic policy."
Brat beat Cantor in the June 10 primary, 56 percent to Cantor's 44. Brat will face fellow Randolph-Macon professor Jack Trammell in the general elections in November.
College Fix contributor Dominic Lynch is a student at Loyola University Chicago.
Like The College Fix on Facebook / Follow us on Twitter
IMAGE: Internet/Facebook screenshots