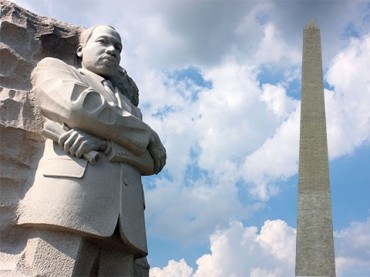 American University 'race, privilege and class' panel slams 'diversity' in D.C., white cops
WASHINGTON, D.C. – The Martin Luther King, Jr. Memorial stands proudly on the shore of the Tidal Basin in Washington, D.C.'s West Potomac Park. It sits roughly three-quarters of a mile from the Washington Monument.
Take a photo at the right angle, and the two structures – the granite obelisk and statue of the civil rights legend – look as if they stand right next to each other.
But an American University associate professor of African American history described this juxtaposition as a "haunting of the continued inequality in Washington, D.C."
"Now some might perceive that juxtaposition as a symbol of triumph," said Professor Theresa Runstedtler. "But I want to suggest that it is a representation of a kind of haunting. The haunting of the dreams still deferred, that are encapsulated as much as the victories of monument. A haunting of paths not taken."
She made the comments Wednesday as part of an American University Table Talk Lunch Series titled "A Study in Black & White: Race, Privilege, and Class in the District of Columbia."
The three panelists said they agreed that Washington D.C.. is a diverse city, but only in the sense that the white people live on one side, and black people live on the other.
Runstedtler used the representation of the two monuments to show that D.C. is "a tale of two cities." She said D.C. is racially divided, pointing to a "stereotyped" map of the city that shows a predominantly white population in the western part and a predominantly black population in the eastern part.
She also noted the jobless rate in the city's Ward 3, "a white-people area," is only 1.8 percent, while the rate of Ward 8 is 18.6 percent.
"I want to suggest that even though we see white people moving further east, that if you just look at it from the case of population concentration, is this what diversity looks like?" Runstedtler asked.
"There is very little movement between those different spaces. And if we look at it just from an absolute perspective, it is very clear where the dividing line is," she added.
What's more, Runstedtler criticized the criminal justice system for its alleged unequal treatment of the African American community.
"Thanks to the criminalization of poor communities of color, we have an astronomical increase in black and brown prisoners over the last 30 years," Runstedtler said.
The event, hosted by the Kay Spiritual Life Center, aimed to provide a forum for "students to explore contemporary issues of ethical concern," its description states. "Table Talks brings together the University and wider D.C. communities several times each semester to reflect upon the pressing issues of the twenty-first century."
Speakers included Runstedtler, as well as Hilary Shelton of the NAACP, and American University lecturer Easten Law.
Shelton, the Washington bureau director of the NAACP, echoed Runstedtler's sentiments that he believes D.C. is a racially divided town filled with biased white cops, mirroring much of America today. He cited the shootings of unarmed black men by white cops, including the recent case of Michael Brown and the 1999 New York case of Amadou Diallo.
"They are not a new phenomenon," Shelton said. "Video is the new phenomenon."
Shelton also slammed Alabama, Arizona and Colorado for using "racial profiling" in their state immigration laws.
"In order for a city police officer to enforce an immigration law, he has to figure out, or she has to figure out indeed what looks like someone who does not have proper papers," Shelton said. "Think about that for a minute. What does an undocumented immigrant look like?"
"Now you've got police officers, most of which don't even have college degrees, given this new responsibility. You have to go find those 'illegal immigrants' and bring them to justice," Shelton added.
Shelton said the NAACP is pushing for legislation that puts emphasis on "non-deadly" forms of apprehending "suspects."
He noted that gun-related homicide is the number one killer of African American boys between the ages of 15 and 24, but did not mention that most of those gunmen are also African American.
College Fix reporter Michael Cipriano is a student at American University.
Like The College Fix on Facebook / Follow us on Twitter
ILLUSTRATION: Julianne Stanford, for The College Fix
Like The College Fix on Facebook / Follow us on Twitter