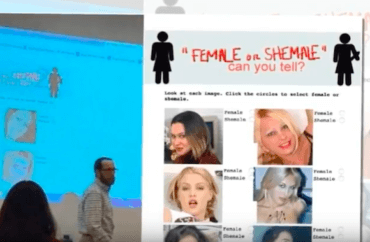 Instructor now teaching online course after transgender uproar
A New York university has removed a professor from teaching inside the classroom after using the term "shemale" as part of a controversial transgender-themed quiz.
The incident occurred on October 18, when State University of New York Geneseo Professor David Sorbello gave his sociology class a quiz titled "Female or Shemale: Can You Tell?" Students allegedly had to identify which women on the slides were biological females, and which identified as transgender females, according to The Livingston County News.
The professor "joked that the quiz was a lesson to people to not to get too drunk or they might take the wrong one home," according to The News.
Following this quiz, SUNY Geneseo appears to have pulled Sorbello from in-classroom teaching.
Jasmine Cui, a student in his class, told The College Fix in a message that Sorbello "now has a replacement."
A university spokesman declined to give details on Sorbello's teaching status other than to confirm Sorbello is no longer teaching inside a brick-and-mortar classroom.
When asked whether or not Sorbello was still employed by the university, campus spokesman David Irwin told The Fix via email: "Yes, he is teaching two classes through an online format."
Asked for clarification as to whether Sorbello's online teaching position was the result of the controversy, Irwin responded: "All I can do is confirm he is teaching classes online."
"It's a personnel matter on which I cannot comment," Irwin added, "beyond confirming that he is teaching classes online."
Jillian Steinberg, a sophomore in Sorbello's class, gave her account of the incident in an interview with BuzzFeed.
"He said something along the lines of, 'Be careful not to get too drunk or you'll take the wrong one home,'" Steinberg recounted. "He would comment on some of the pictures like, 'I'm definitely not going to the bar with you.'"
According to Steinberg, the professor acknowledged he may have overstepped after the lecture, noting after the quiz that some students looked "uncomfortable.
As late as Oct. 20, Sorbello appeared to believe he would continue as an in-classroom instructor. In an email to his students on that day, Sorbello forbid the use of electronic devices in his class.
"There will be strict enforcement of my policy on electronic devices from here on out," he wrote.
Students had previously called for Sorbello's firing. A petition circulated by SUNY Geneseo student Amelia Stachowiak, via the school's student petition website Geneseo Speaks, demanded Sorbello's immediate removal from the university. The College Fix reached out to Stachowiak via Facebook, but she did not respond.
Denise Battles, president of SUNY Geneseo, released a written statement addressing the incident.
"As we review this situation, let me say unequivocally that SUNY Geneseo has a steadfast and uncompromising commitment to diversity and inclusivity," it stated in part. "We work diligently to sustain an inviting and supportive environment for people of all gender identities, gender expressions, sexual orientations, races, religions and other identities."
The Fix reached out via phone to Dillon Federici, a representative from the SUNY Geneseo LGBTQ Resource Center. Federici said that the university's center did not have any further comment past the comments from the president's office.
Sorbello did not respond to a request from The College Fix seeking comment.
MORE: California community college offers scholarships to transgender students
MORE: University of Pennsylvania's transgender name change policy expanded after College Fix inquiry
IMAGE: YouTube
Like The College Fix on Facebook / Follow us on Twitter