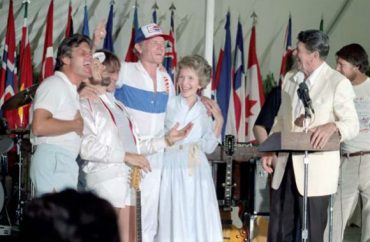 Good thing it wasn't 'Good Vibrations'
University of Kentucky Prof. Buck Ryan is accusing the school of a Title IX witch hunt because he sang a Beach Boys song to Chinese students as part of a UK program.
The school judged his behavior "sexual misconduct" because the lyrics to "California Girls" are "sexual in nature," according to Ryan, who made his case against UK in a Lexington Herald-Leader op-ed Saturday.
The professor, who directs the Citizen Kentucky Project at UK's Scripps Howard First Amendment Center, was hamming it up for the closing ceremonies of "Education Week" at the unnamed Chinese university:
For my Chinese students, I sang a song to teach the many differences in Chinese and American culture. The Beach Boys riff was one of three takeoffs of popular songs (Sting, Wizard of Oz) that I sang in my closing remarks.

A few of my top Chinese students attended the closing ceremonies, and they actually liked the song. One was impressed that I could use the names of Chinese places instead of the original American ones.

UK's three-month investigation of my case revealed no student complaints. In my more than 30 years of college teaching, I have never faced a complaint of sexual misconduct from a student.
Ryan claims his simple request to know the substance of complaints against him "was turned into an open requests request" by the university's legal office, which denied it:
The dean who issued my punishment never talked to me. I learned about my fate in a letter dropped on me by two assistants just before I was to teach a class.

My punishment in this case-without-victims bans me from receiving international travel funds and strips me of a prestigious award worth thousands of dollars.
When he asked about his due process rights, according to Ryan, Provost Tim Tracy told him he had no due process rights because he was simply being denied the privilege of representing UK abroad and teaching "a particular class."
Ryan says the alleged victims of his "inappropriate behavior" were never interviewed by university officials and that the women had "wanted to defend me." He claims the university has challenged him to file a lawsuit.
Like The College Fix on Facebook / Follow us on Twitter
IMAGE: Reagan Library/Wikimedia Commons