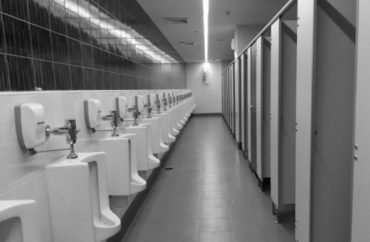 Male and female bathrooms should be eliminated and replaced with "no gender public restrooms" that everyone can use regardless of their biological sex or perceived gender, one professor argues in a scholarly journal.
Heath Fogg Davis, an associate professor of political science at Temple University, wrote in an article published this month in "Groups, Politics, and Identities" that the current trend to allow transgender people to use their preferred bathroom, and the creation of single-stall bathrooms to accommodate them, results in "sex-identity discrimination."
The problem with letting transgender people use whatever bathroom they prefer is it does not prevent possible questioning and harassment from others when they use sex-segregated restrooms, he argued.
"The 'men' and 'women' signs on restroom doors effectively deputize anyone to make a citizen's arrest," according to Davis.
What's more, he wrote, single-stall facilities "sanctions and reinforces the prejudice of many people who view transgender people as deviant."
Male and female-separated bathrooms "enable this harm," Davis wrote, adding "I argue that we should eliminate them and institutionalize no-gender public restrooms." He called for "all-gender single-user stalls that are enclosed by floor-to-ceiling partitions."
"These private stalls are built around a common area where sinks and mirrors are available for everyone, regardless of sex identity or gender expression," he noted, pointing out such facilities can already be found in New York and Philadelphia.
Davis acknowledged no-gender restrooms might not be readily accepted, but he called on feminist and gender theory scholars to embrace this concept to usher in true equality, calling equal access to public restrooms "a fundamental right."
Beyond those who are transgender, Davis argued no-gender public restrooms would benefit gender nonconforming individuals and also assist "caregivers of different sex children and adults in need of help using public bathrooms."
In an interview with The College Fix, Davis said he was inspired to write about the transgender bathroom issue after publishing "Beyond Trans" earlier this year.
It tackles a broader argument that suggests when policies classify or segregate people by their biological sex, it can and does lead to sex-identity discrimination.
To that end, the book "pushes the conversation on gender identity to its limits: questioning the need for gender categories in the first place. Whether on birth certificates or college admissions applications or on bathroom doors, why do we need to mark people and places with sex categories? Do they serve a real purpose or are these places and forms just mechanisms of exclusion?" according to the online description by its publisher.
The description added that "Davis, himself a transgender man, explores the underlying gender-enforcing policies and customs in American life that have led to transgender bathroom bills, college admissions controversies, and more, arguing that it is necessary for our society to take real steps to challenge the assumption that gender matters."
Davis told The Fix that "what we think of as 'transgender' discrimination is actually something that affects a whole range of people that may or may not be trans, but are judged and punished by others for challenging gender norms."
Davis added no-gender restrooms would offer everyone more safety, regardless of their sex or gender identity.
The "major reason why women's public restrooms become places where criminal assault happens is that individuals seeking to commit such crimes know that these places are places where only girls and women will be," Davis said. "The same can be said of assaults of 'feminine' appearing boys and men in male-designated bathrooms."
As for the no-gender bathrooms, Davis wrote in his article the idea would be an easy solution.
"Current sex-segregated restrooms could be converted into no-gender bathrooms without too much expense," he wrote, adding companies "might consider converting some or most of their restrooms to no-gender, while maintaining a traditional sex-segregated restroom option for those who wish to use it."
MORE: Attacked by 'militant LGBT students,' professor resigns
Like The College Fix on Facebook / Follow us on Twitter
IMAGE: Shutterstock
Like The College Fix on Facebook / Follow us on Twitter