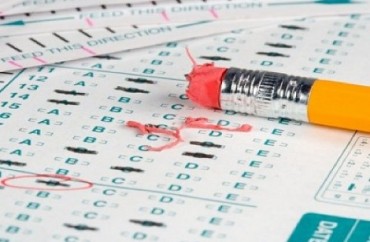 Question was 'discriminating' and 'hurtful,' according to transgender student
A professor at a California college was reported to his dean after one of his exam questions asked whether it was fair for biologically male athletes who are transgender to compete against women.
Students in an English class at College of the Desert were asked a question on a May 22 final exam that read: "During track and field season, Palm Springs High School had a boy, who thinks he is a girl competing against girls in track and field. Since boys are physically more muscular, bigger, stronger and faster, how is this a fair competition? What is the point in even having girls' sports if this is going to be allowed? What should the competitors themselves, their parents and their coaches do about this?"
Andylynn Payne, a transgender woman (biological man who identifies as a woman) and a student in Arthur Morrow's English 61 class, was one of several students who found the question on the final exam troubling, according to KESQ News.
"He may not find it discriminating but I find it discriminating. I find it personally hurtful for him to do this about another student," Payne said. "He talked about it in the past, about his opinion on a transgender student in Palm Springs High School competing against his daughter in track and he was very upset and very passionate about that. I originally had intentions of hopefully reporting him at that point because I thought it was very horrible."
Payne claimed that she reported the question and final exam to the dean May 23, the day following the exam.
The College Fix reached out to Payne for an interview. Payne originally agreed to speak to The Fix pending the approval of her academic advisor. She subsequently ceased communication with The Fix.
Neither Professor Morrow nor the school's public relations office returned repeated requests for comment from The Fix.
But according to comments a campus official gave to KESQ News, the professor may have been investigated over the incident. Pamela Hunter, executive director of institutional advancement at the community college, told the news station that the school will investigate any issue that is brought to the dean.
In recent years, the debate over allowing transgender athletes to compete with the gender with which they identify has become a national issue. Most recently, Andraya Yearwood, a Connecticut high school transgender student who identifies as a female, was allowed to compete with the girl's track team and subsequently won two state titles. Yearwood has not yet undergone surgery or had hormone treatments.
In 2016, Chris Mosier became the first openly transgender man to compete for a U.S. National Team after qualifying for the Team USA roster at the sprint duathlon national championship.
Opponents claim that transgender women have an unfair physical advantage when it comes to women's sports; advocates, on the other hand, argue that such considerations should be irrelevant, with the LGBT rights group GLAAD, for instance, arguing that "transgender women are women."
MORE: Sorority accepts men: 'A transgender woman is just as much of a woman as I am'
Like The College Fix on Facebook / Follow us on Twitter