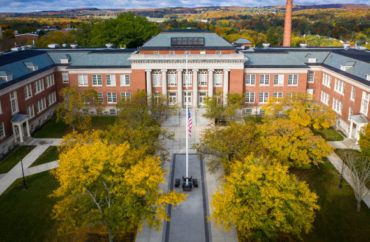 A SUNY-Cortland professor was reported to his university's bias response team for saying America is not as bad as it was in the past when it comes to race and gender relations.
The complaint was among about three dozen filed with the university's bias response team since January 2020, according to documents recently obtained by The College Fix through a public records act request.
Other complaints included a professor who used the terms "redsk*n" and "Squ*w" when discussing Peter Pan, a student who yelled "shut up, I'm trying to sleep" at Black Lives Matter protesters, and a dorm resident who called her roommate a "Dyke-A-Saurus Rex."
The identities of both the complainants and complaint targets were redacted by the school.
The reports were obtained as The College Fix continues to investigate the types of complaints that are lodged through bias response teams at college campuses across the nation. More than two dozen universities have been included in the investigation so far since it launched in 2019.
The SUNY-Cortland complaint against the professor regarding race and gender stemmed from January of this year.
As students settled into their first class of the semester, the professor introduced himself and said he would not be "one of those America-is-evil academics," according to the complaint.
The professor said what younger generations need to realize is that America has made progress since the 1930s, and "we should be proud of how far we've come as a society relating to race and gender relations."
The professor noted that when he was growing up, "women only aspired to mediocrity," but things have changed for the better.
This introduction offended a student, who took to the school's bias response system to file a complaint against the professor.
"This seemed incredibly tone-deaf, and completely unnecessary and unrelated to our syllabus," the student wrote in their officially lodged complaint.
"It made me sick to my stomach because it was clear that people had tried to educate him, and he was firmly within his beliefs and ignorance," the student wrote, noting the professor had said that many people today blame outside sources such as discrimination for their problems instead of taking accountability for themselves.
The report was one of dozens filed with the SUNY-Cortland Bias Related Incident Reporting Form.
According to the SUNY-Cortland website, the bias reporting form is meant to allow students and faculty to report each other for violations involving "(dis)ability, age, ethnicity, gender/sexism, gender identity/expression, nationality/immigration status, physical appearance, race, faith/non-faith, sexual orientation, and/or socio-economic status/class."
"We at SUNY Cortland are committed to mitigating behavior and conditions that work against the richness of a diverse and inclusive community," the school says on the site.
"Biased related incidents on the SUNY Cortland campus are of great concern for all members of the campus community. A biased related incident not only impacts people at an individual level, it negatively impacts our entire community."
Those reporting other students or faculty members are able to remain anonymous.
"Either way of reporting is very helpful in creating the healthy cultural environment we have as set [sic] as a goal a priority at SUNY Cortland," the website states.
A SUNY-Cortland spokesperson did not immediately respond to a request by The College Fix for comment.
In numerous cases, students reported professors for things said in class.
In October 2020, a professor was reported for using two antiquated terms offensive to Native Americans, even though he acknowledged they were offensive.
"While talking about Peter Pan, for class, because he is the professor, he really did say both "redsk*n" and "Squ*w" out loud," a student wrote in their complaint.
"While he was referencing the fact that the depiction of native people in that novel was stereotypical and offensive, he also literally said those out loud. They're slurs used against indigenous people, he didn't have to actually say them in order to explain the problematic depiction in the novel?"
The student classified the professor's statement as an "Inappropriate verbal comment" and an "Offensive classroom comment."
In another incident, a minority acting student took objection to a session in which a professor critiqued students' headshots and resumes.
After praising a number of headshots by caucasian students, the professor allegedly told the minority student that brown eyes were more difficult to photograph than blue or green eyes, but that their headshot was still "okay." He said headshots typically weren't taken outside, but that her skin looked good.
The professor then moved to the student's resume, which said she was skilled in singing and dancing to soca, reggae and dancehall music. The professor said he wasn't familiar with soca music, capping his comments off with, "says the painfully white man."
"At this point, I was feeling ostracized and othered," the student reported.
The professor also commented on the student's claim that she could do certain foreign accents, and asked her if she could demonstrate her talent in front of the class.
"I sat there uncomfortably and said 'Well what do you want me to say?' Realizing how uncomfortable I was he said ,'You don't have to do it right now, just be able to do so in an audition room,'" she reported. "I knew that was not what he originally meant."
The professor continued to compliment caucasian students, telling one she had a "beautiful straight nose."
"At this point I felt like an alien," the student wrote. "I've never been so directly and publicly faced with such feature-ist comments in a school setting. Especially while in a classroom. I even considered taking my native tongue off of my actors resume to save myself from future embarrassment and humiliation."
Later, the professor suggested the student would have a good chance of being in a production of "Spongebob the Musical" because the show is "weird and diverse."
"At this point, he is not entitled to my tough skin, but I am entitled to an education where I feel safe and appreciated at the bare minimum and with this professor I do not feel safe," reported the student, attaching a copy of her headshot and resume to the complaint.
Other complaints filed with the SUNY-Cortland bias reporting system include:
-On the evening of October 2021, students began a pro-Black Lives Matter march, doing two laps around campus. As the students marched and chanted, one person yelled "shut up, I'm trying to sleep" from the window of a residence hall. The student complained about other comments being yelled from windows ("shut up," "it doesn't matter,") and also reported that students were taking pictures of the march using their cell phones. The reporting student considered these actions "Verbal assault," and "Micro-aggressions."

-In August 2020, two students were driving back to campus together and discussing the app TikTok. One student said they always see bisexual people on their timeline, adding that their friends always thought they were bisexual, "but I would tell them I'm not a dyke." Later, the students were sitting around talking about their dogs, and the student made a remark about a dog's weight. "My boyfriend's dog is so skinny, it's like, when did you get out of Auschwitz?" the student said. The student was then reported to the school for the two comments.

-In September 2020, a female student filed a complaint after being asked to leave the weight room of a campus gym because she was wearing a sports bra. According to the student's friend, who also filed a report, the women were told to "put a shirt or sweater on or leave." The students reported that they felt targeted and humiliated.

-One dorm resident was reported for calling her roommate "Dyke-A-Saurus Rex." She also referred to the roommate as "it" and "thing."

-In November last year, an Asian student complained that Asian students were being tested for COVID-19 more than his caucasian peers. "Throughout the semester, I have been selected 5 times for the COVID testing," the student wrote. "I am not an anti vaxer [sic] nor against testing, however, a majority of my friends that commute (I am also a commuter) have not been selected more than once for this random test." "In addition to this," the student wrote, "my caucasian peers have not been selected more than 2-3 times as well. … My other Asian friends have also been selected multiple times. … I believe this to be racist as the only other people I know to have been selected this many times are freshman [sic], and individuals that have identified as Asian."

-In an ironic twist, one student complained that the bias reporting form was itself biased, because it did not include gender identity as a possible selection for reporting. "This form does not include 'gender identity' as an option for perceived type of bias," the student wrote after a complaint in which a student allegedly made fun of pronouns. "I have perceived this bias as being related to gender identity, specifically in regard to transphobia. I have chosen physical appearance for this section as a replacement for gender-identity bias."
MORE: The College Fix investigates: bias response teams
IMAGE: SUNY-Cortland
Like The College Fix on Facebook / Follow us on Twitter