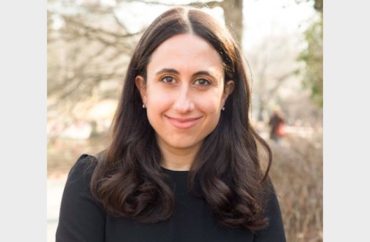 A Hofstra University professor says U.S. Supreme Court Justice Neil Gorsuch's refusal to wear a face mask on the job is like "manspreading" and using so-called "bro language."
Kara Alaimo, a professor of journalism, media studies, and public relations who is a self-described "expert on women, social media & global/political communication," took advantage of reports that SCOTUS Justice Sonia Sotomayor was upset at Gorsuch's reluctance to wear a mask.
For example, the Washington Post did not get a response when it asked about Sotomayor's recent virtual participation during arguments, and Nina Totenberg at NPR cited "court sources" which said Sotomayor "did not feel safe in close proximity to people who were unmasked."
Although these reports now appear to be bogus, Alaimo (above, right) describes Gorsuch's mask decision as a "shocking display of male entitlement."
NEW: A statement from Justices Sotomayor and Gorsuch:

"Reporting that Justice Sotomayor asked Justice Gorsuch to wear a mask surprised us. It is false. While we may sometimes disagree about the law, we are warm colleagues and friends."

— Adam Liptak (@adamliptak) January 19, 2022
"Gorsuch's choice not to mask up was an act of the same variety as men who 'manspread' on the subway by sitting with their legs apart so there isn't legroom for the person next to them or use "bro language" like referring to their sexual exploits in the workplace," Alaimo writes. "This kind of behavior often makes women feel uncomfortable and even unwelcome in public settings, including their places of work. In the case of Gorsuch's disregard for Sotomayor, it was particularly inappropriate because not wearing a mask posed a potential threat to her health."
MORE: Former student of SCOTUS nominee Neil Gorsuch accuses him of sexist remarks
Alaimo cites a Stanford University study which (allegedly) found that "men who refuse to comply with Covid rules such as mask wearing are also more likely to commit sexual harassment and have sexist views."
The former Treasury Department spokesperson for international affairs under the Obama administration also takes aim at new Virginia Governor Glenn Youngkin's repeal of state mask mandates: "[T]he decision will help ensure that a generation of children in Virginia have the opportunity to follow Gorsuch's lead in displaying gross disregard for the welfare of others.
"The alarming decision stands to be particularly devastating for women, because mothers have been the ones largely dealing with the fallout when their kids get sick or they don't feel it's safe to send them to school."
Alaimo concludes: "Enough is enough. We as a society have to demand that men stop using their positions of power to keep women from exercising our own power and participating fully in our society. This starts by calling out behavior like going maskless in public places for what it really is: a display of staggering entitlement that should leave people of all genders outraged."
The professor's tweet of the article does not seem to be garnering a lot of agreement.
"I like masking. I am female. Thus, anyone that doesn't like masking doesn't like women."

Much more succinct presentation.

— Dog guy (@Catsorange1) January 19, 2022
Demanding that other people wear a mask to make you comfortable is a definitive example of privilege.

— Kyle Beckley (@Kyle_Beckley) January 19, 2022
I am surprised a Ph.D. can commit so many logical fallacies in a short piece. You engage in ad hominem, hasty generalization, inductive fallacy, Cum hoc ergo propter hoc & more. A long list. I agree Gorsuch's behavior is rude but doesn't extend to all men. It's also his right.

— Kevin Bachler (@kevbachler) January 19, 2022
MORE: Obama's former lawyer and law professor tells Democrats to approve 'extraordinary' Gorsuch
IMAGE: Kara Alaimo / Twitter screencap
Like The College Fix on Facebook / Follow us on Twitter