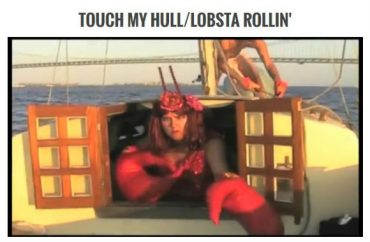 Remember the self-identified professor who told the NYPD to beat up right-wing provocateur Gavin McInnes and his supporters so New York University students wouldn't have to use violence?
According to RT America, she is artist Rebecca Goyette, who adjuncts for "various colleges in New York."
She told the Russia-owned media outlet that McInnes's supporters were "being actively aggressive against NYU students" and "the cops were there to support his supporters, not the rights of students on their campus."
Goyette lost her cool and started yelling at police because "it was a completely unsafe situation for students," she said.
According to an undated Goyette curriculum vitae whose latest entries are 2012, she taught art at Montclair State University in New Jersey "2011-current." Her own website bio (currently saved 11 times in the Internet Archive going back nine years) has entries through 2016 but does not list any teaching gigs.
MORE: The next Melissa Click shows up at NYU protest
She is known for making "lobster porn" videos with titles such as Masshole Love and Touch My Hull, though her bio renders the term "lobsta." (They are cartoonish but graphic.)
Goyette also made "an irreverent, nasty, hilarious, empowering feminist porno" titled Ghost Bitch to honor her ancestor Rebecca Nurse, a victim of the Salem Witch Trials, according to a Huffington Post feature on the artist last year. She participated in a panel discussion on Ghost Bitch (one of her dildo-doll creations is visible on this page too).
In her bio's own words:
Rebecca Goyette creates persona-based works that poke holes in Puritanical sexual mores. Working in a wide variety of media, her extensive artillery features figurative drawing, video, performance, and handmade sculptural elements made from fabric, clay and found materials used in a ritual fashion. Many know her as Lobsta Girl, and Goyette has filmed her interspecies pornos detailing the sex lives of lobsters internationally. Originally, Goyette adopted the sexually aggressive female lobster as a primary character she performed live to promote female agency. Another alter ego to Goyette is the ghost of her direct ancestor, Rebecca Nurse hanged as a Salem witch, who is re-imagined cycling through repetitive power dynamics in fits and foibles in the "New World."
Read the RT America article, HuffPo profile and illustrated transcript of her panel.
MORE: College socialists call for more violence against Trump supporters
Like The College Fix on Facebook / Follow us on Twitter
IMAGE: ReboGallery.com screenshots